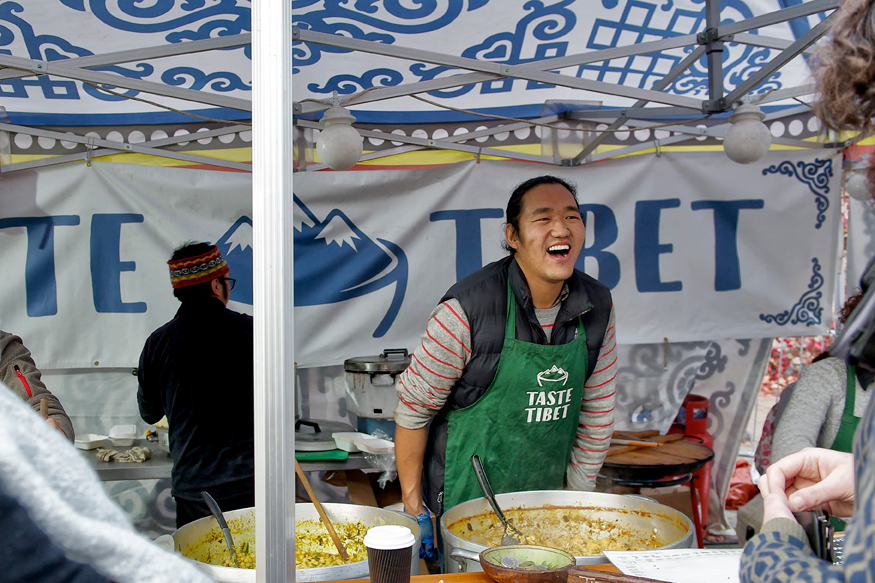 The people of Oxford have spoken. You guys love Taste Tibet, and Taste Tibet is expanding to meet demand!
We need to put together a team of chefs and front of house staff to work with us at markets, pop ups, university college balls and summer music festivals.
We are looking for full-time and part-time staff, as well as people who are interested in summer festival work only (May – September).
Are you a customer who hates their current job and loves our food?
Are you a chef who is seeking more of a challenge?
Are you a lover of life who is looking for work that happens in the big outdoors?
Do you love people? Markets? Festivals?
We would love to hear from resourceful, flexible all-rounders, who are happy chopping onions as well handling customers and taking orders. You will need to have stamina, to be prepared to lift heavy equipment, to clean big pots, and to muck in setting up and taking down our stall.
Experience of similar work would be great, but is not essential. Honesty, reliability, and a can do, will do attitude are more important than anything.
You must be eligible to work in the UK, and have working if not fluent English. Tibetan a plus….
This work is not for the faint-hearted, but it is fun, we offer good rates of pay, and a very friendly work environment.
If you are interested, please send us your CV and tell us why this is the job for you.
We look forward to hearing from you!
Love from the Taste Tibet Team x
#tastetibet #tibet #hiring