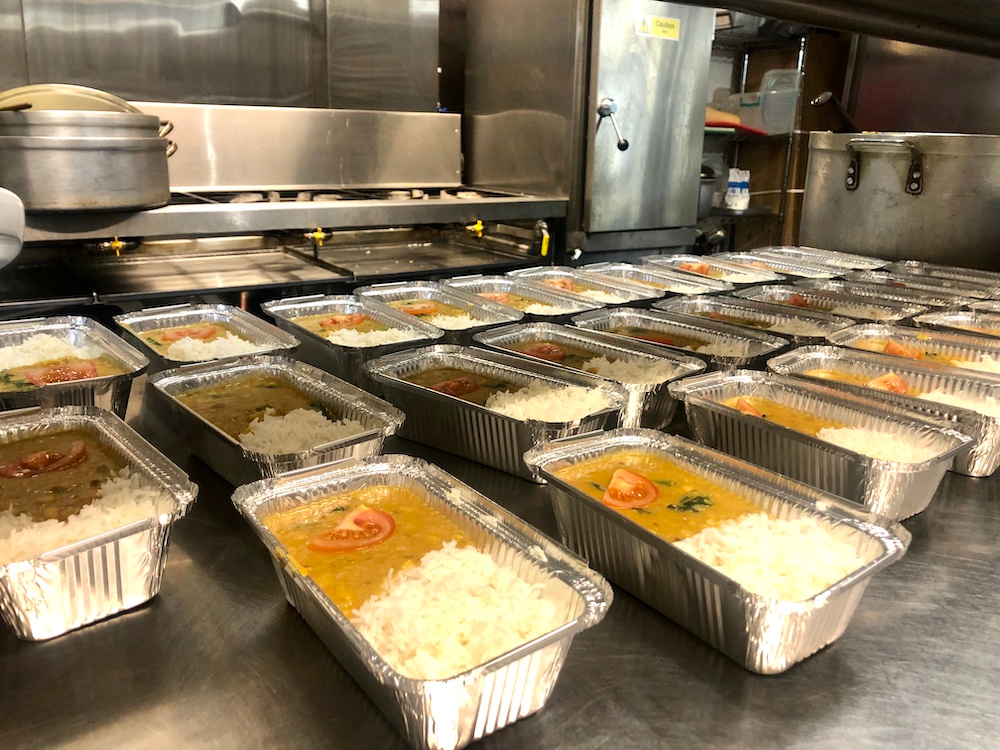 At our stall and pop ups we have always encouraged people to bring their own reusable food containers. A money-back deal makes this offer pretty attractive, and it usually works out well for people in terms of portion sizes too (bring a sizeable container and we aren't going to send it away half empty).
When we open our own place (who knows when now – but the plan is still very much there!) we are really excited about launching our reusable tiffin scheme: you will be able to buy one of these off us at cost price, and bring it in for refills every time you take away.
For now, of course, social distancing means that none of these initiatives are possible, so before we launched our delivery service we did our research into what packaging would work best both for us (including you) and the environment.
The bagasse compostable containers that we use at our market stall and pop ups are great for boxes that don't have to stack one on top of the other for any length of time, but they tend to sag after a while. This means the they are not a good option for food that may sit in a confined space in your fridge for a couple of days.
As for paper cartons, these are 100% recyclable and made from a renewable source that does not use fossil fuels. But if they are not sustainably sourced or recycled, they may not be as environmentally-friendly, socially responsible or economically viable as you think.
In the end we plumped for aluminium, which is proven to be the most recycled material in the world. It is 100% recyclable, and also great at getting food to cool faster, which reduces the time that it takes us to blast-chill your hot curry. The faster the cooling time the safer the process: this makes Environmental Health very happy!
Above all, we do everything we can to reduce our use of plastic. As you enjoy more take-outs than usual, please encourage others to do the same. Plastic is certainly a convenient form of packaging, but it would be a shame to see its use go up during a time that otherwise appears to be serving our environment very well. Thank you!
Now for business: our shop is live again for orders for this Thursday, Friday and Saturday. If you would like Taste Tibet at your door this week, click here!
We are also continuing our free food drops at the JR and Churchill Hospitals. If you are not in the market for a momo this week you can still support our Feeding The Frontline initiative by clicking here – thank you so much.
Hope everyone is doing well and eating well!
Looking forward to seeing you soon.
Yeshi and Julie x
#tastetibet #tibet #coronavirus #deliveries #momos #feedingthefrontline #environmentallyfriendly #environment