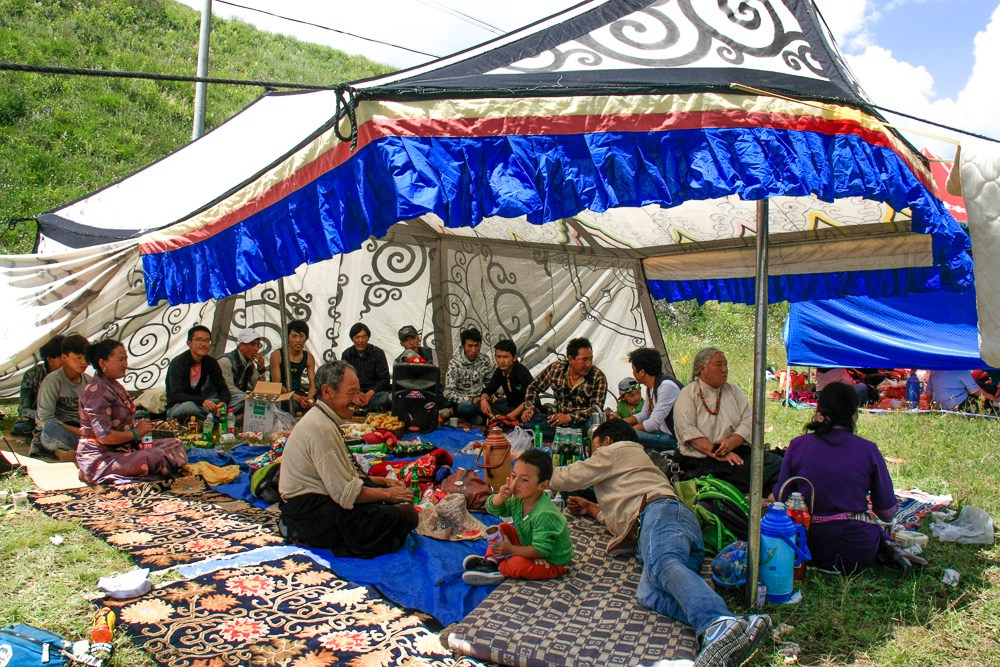 Tibetan people love to party, and there's nothing they love more than a party in nature. The winters are long and harsh in Tibet, but the summer, when the sun is bright and the wind is low, is marked by months of picnicking.
Every village celebrates the summer season with its own lingka, or picnic festival. Between June and September, friends and family congregate under the shade of a tall white poplar, on the banks of a beautiful river, or out on the green grasslands.
Picnics can be hugely elaborate affairs. Our own tent is based on the traditional Tibetan summer picnicking tent, inside which it is all about food. People sit out on traditional Tibetan handwoven rugs, eating momos and yak meat, washed down with a good dose of Tibetan butter tea. These days you can also find tables and chairs inside the lingka tent, and even beds, stereo systems, and flatscreen TVs.
When bellies are full, people sing songs, dance, play cards, gamble (Tibetan dominoes and dice are popular), drink wine, and tell stories of days gone by. They also play sports – some highly competitive and dangerous (and usually involving horses) and some designed purely for fun. Check out the wonderful sport of "barrel jumping", a popular picnicking activity, even among the monks:
https://www.youtube.com/watch?v=kWuKf35f7nw
Take note! Liven up your own picnic this year with a bit of Tibetan style. Momos available for pick-up from Gloucester Green of a Wednesday.
#tastetibet #tibet #festivals #picnic #tibetanfood #tibetan