Reproduced from www.pictureoxon.org.uk, refs POX0600855 and POX0600854.
Even if you know very little about Tibet you may know that most Tibetan people are Buddhists, and that Buddhists believe in Karma and reincarnation.
Our new place on Magdalen Road (seen to the right in the picture above) has had many previous incarnations. It has been a bakery, an ironmonger, a florist, a pawnbrokers and for many years – as seen here in 1957 – a grocer. Not so long ago there was no choice but to shop local, and the streets of East Oxford were full of butchers, bike shops, fruit and veg stores and chippies. How much has changed! But we can still source most of what we need from our local shops, and now more than ever it's important that we strive to do so.
And there is still a strong sense of history and occasion about Magdalen Road, and signs of what came before. Now that the doors are finally open to our new takeaway, come in and see the old roller blind that hangs above the entrance inside the shop. We uncovered it during recent renovation works, and have cleaned it up and made a feature of it.
It is humbling to think about all the businesses that have come and gone from this building since it first went up over 120 years ago. It gives us our sense of place. There will be life beyond Taste Tibet at no.109, so we must have some fun while we have our turn. And if we use our time well, give back at least as much as we take, and create a welcoming space, then good Karma will continue to have its way here.
Speaking of which, we are still preparing free meals for vulnerable people in Oxford who can't make it to the new shop. Oxford Mutual Aid has already distributed hundreds of these meals to families around town. You can help us to continue providing this food by purchasing a voucher on our website or in store. We appreciate all contributions, big and small. Please help us work that Karma!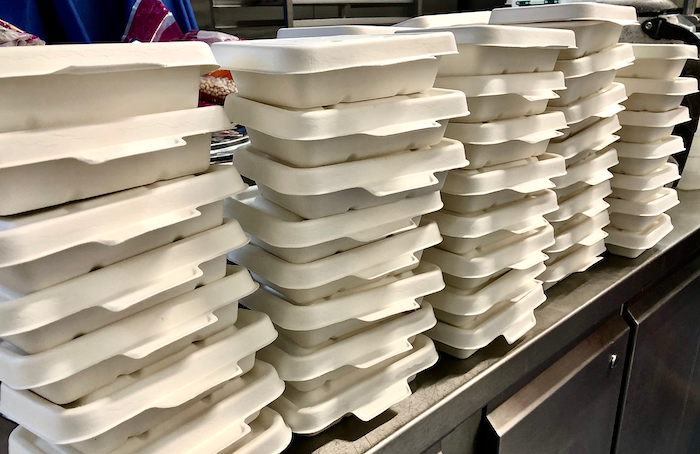 Meanwhile, thank you to everyone who came to visit us during our opening week. We were absolutely overwhelmed by the support from customers new and old. Thanks also to those of you who helped us spread the word. Last week, everyone who signed up to our mailing list, followed us on social media, tagged a friend or shared our posts was automatically entered into a prize draw, and we are super excited to announce that this week's winner of a free family-sized box of momos is LISA BATES! @lisa.marie.bates please get in touch so that we can let you know how to claim your prize.
There's another great discount in store for everyone on our mailing list this week, so make sure you sign up through our website to claim yours!
This week we are open from 5-8.30pm on Thursday, and we are running the same times on Friday and Saturday as well. Please come for takeaway and remember to tell your friends!