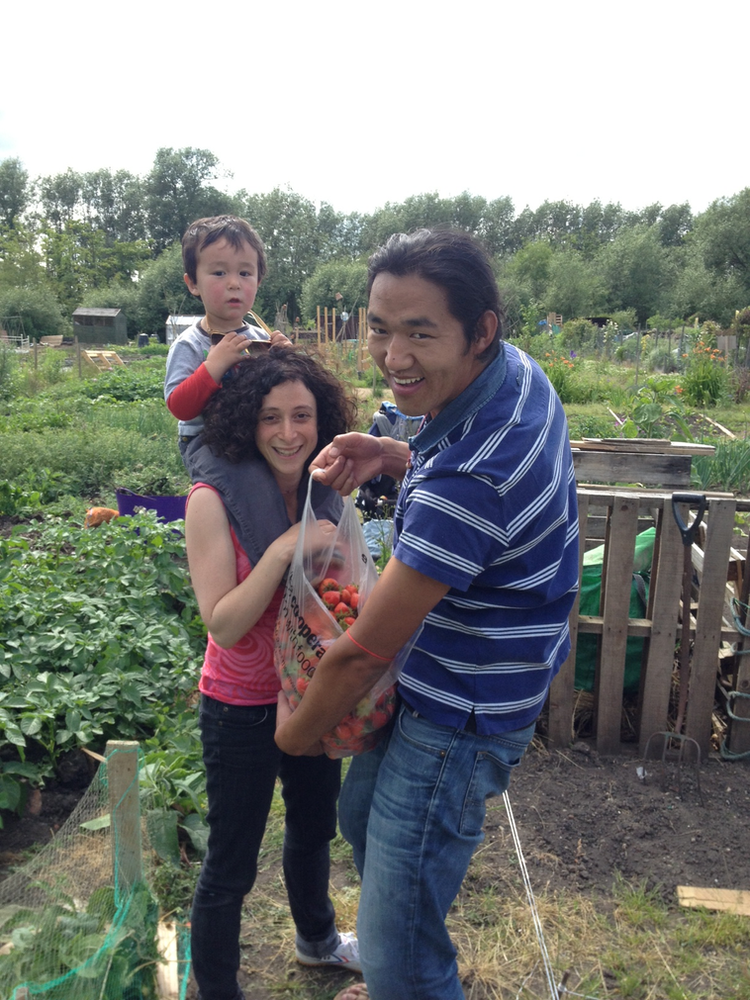 One of my earliest discoveries upon arrival in Oxford was how much people here love their allotments.
In the days before Taste Tibet, when our eldest child was a baby and would sleep for hours at a time in his pram, I made my allotment my vocation. I grew industrial quantities of spinach and lettuce, green beans and coriander, strawberries and rhubarb.
The allotment allowed me to create an identity for myself. I was a house husband at the time, and I quickly discovered that in middle class English society people place a lot of value on what you do for a living. Without a job that would help to explain who I was and what I was doing in Oxford, my allotment gave me something to talk about, and this allowed others to relax.
At the same time, I was putting to use skills honed in Tibet that I had not drawn on in over a decade of life in India. I loved it. My allotment did not resemble anyone else's. I dug deep (no raised beds for me), and there was nothing pretty about it, but the yield was impressive, and enabled me to give generously to all around me.
Fast forward six years and I have little time to grow vegetables for myself. At the Taste Tibet stall we are proud to cook with vegetables grown by others in their allotments around town, in particular one elderly Chinese lady who grows Chinese veg that would otherwise travel thousands of miles to reach my chopping board. I love how market life has connected me to the people in my community doing all kinds of extraordinary and important things.
Right now it is harvest time in Tibet. Last week my family sent me the video below showing villagers picking out turnips for the long winter ahead. In Tibet there are several harvest periods in a year. People are constantly planting and harvesting, planting and harvesting. But this is the most important time of year for vegetables in particular. As we head into winter my friends and relatives are digging for turnips, potatoes, Chinese cabbage and radish.
https://www.youtube.com/watch?v=iXO9Zodidoc
Much of this haul is stored underground over the cold season. This enables people to enjoy fresh veg for the duration of the winter.
October is also apple and peach picking season, as well as walnuts. The peaches and walnuts are dried out for consumption over the months ahead, and they taste amazing.
How I miss autumn in Tibet! This is definitely the most beautiful time of year. The colours change from red to orange to yellow in a matter of days. It's like a magic show.
Still, the trees in Oxford's very own Gloucester Green are not half bad in autumn! I enjoy this time of year in the market. Come and see us Wednesdays only at the moment, 9am-4pm.
#tastetibet #tibet #oxford #market #GloucesterGreen #tibetan #allotment #homegrown