Many of you ask where we source our ingredients, and we are always proud to share that we support a number of very local businesses who provide most of what goes into our momos and curries.
Before we started our food stall in Oxford's Gloucester Green Market in 2014 we were already buying our fruit and vegetables there. Back in the day we lived in Jericho and didn't own a car, so Wednesdays were the one opportunity that Yeshi had in the week to get up close and personal with the food that he brought to our family's table. Touching and sniffing his raw ingredients is very important to him.
In Tibet and India this was a luxury that he took for granted: he never came across vegetables wrapped in plastic until he moved to the UK. In Dharamsala, where we met, traders are forbidden from using single-use plastic so vegetables are always sold loose, and if you don't bring your own bag then they are parcelled up for you in pouches made from old newspaper – see below.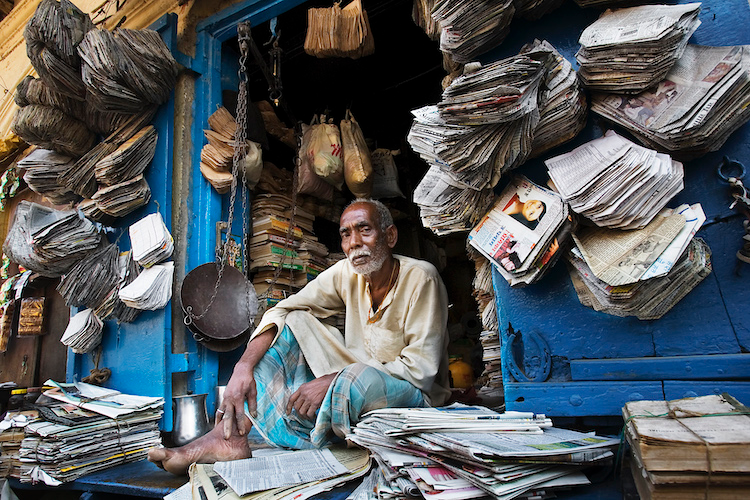 Once we had taken up residence in Gloucester Green, Yeshi immediately began purchasing wholesale from his fellow traders. We have been buying our produce from Oxfordshire greengrocer Jason Methven since the very beginning. Jason's grandfather started the fruit and veg stall that he now runs. Today Jason delivers to the Taste Tibet door – the only delivery that we take in the week. Yeshi spends the rest of his time scouring the Cowley Road shops for speciality ingredients.
When the kids go back to school next week we are going to turn our attentions to our new premises. We are hoping to step up our opening hours – watch this space! So if you are after deliveries then this week is your last chance! We are going big guns and delivering in both Oxford and Wallingford this Thursday – click here for more info and make sure to get your orders in by 7pm on Wednesday. Remember that this is a delivery of chilled food for reheating at home, so if you'd like to stock up those freezers…
If you are after hot takeaway, come and see us on Friday or Saturday evening 5-9pm in Magdalen Road. Pre-ordering will get you in and out the door quickest – call 01865 499318 on the day – or you can just walk in.
Huge thanks for all your support and encouragement! Many thanks too for your donations to our Cooking for the Community Initiative – click here to read more about our work supporting Oxford Mutual Aid.