Our son Leo came up with the theme for this week's blog, and those of you who use the Taste Tibet cookbook will already be familiar with it.
We've been talking a lot about food waste, noticing how little of this there is in Tibetan cooking, when compared to Western cuisines. Dad never peels his veg, for example – ginger/potatoes: a good scrub is all that is required. Our kids love carrot sticks, a cold snack rarely enjoyed by Tibetans, but these always look a little more rustic in our house than they do round the neighbour's: black bits are nothing to fear as long as the vegetable has been washed.
And did you know that broccoli stalks are amazingly sweet? Strip off the outer layer of that stem, slice it finely, and throw it into the pan for a texture and taste that is a little different to the rest of the dish.
Here's the bit that Leo enjoys the most: the water over which dad steams his momos makes for a delicious soup side – do not throw it away! It contains all kinds of nutrients and great flavour. Wilt a little spinach inside it and you've created a new dish without making any effort at all.
As for your choice of momo filling, this may well be determined by what you already have left over – momos taste great using whatever veg you have to hand. And if you you have filling to spare, this can be used to pep up soups or salads.
Pizza/chips/chicken nuggets: Western food doesn't lend itself well to "recycling" (Leo's term for it), but remnants of Tibetan stir-fries are never thrown out as they can always be added to soups or stews cooked up the following day. Dad loves to combine leftovers at the end of a meal – this is a good space-saving trick for smaller fridges and prevents the need for multiple Tupperware boxes, the contents of which are rarely revisited.
Maybe lots of this sounds obvious – and yet some of it won't be. In the West we've tied ourselves up in all kinds of knots when it comes to how things can or should be done, what can/can't be reused (how many of you ever think to conserve your pasta water?) and what's worth holding onto for some kind of Round II. In times that are tighter than ever, looks like it's time to start cooking Tibetan.
You can find many more imaginative tips for reducing food waste in Taste Tibet, now an award-winning cookbook! This week the World Gourmand Cookbook Awards named Taste Tibet as the Best Asian Cookbook published outside of Asia – we are bursting with pride! If you haven't yet bought your copy, or if there's someone in your life who needs Tibetan food this Christmas, you can purchase your copy with us (if you'd like it signed) or wherever you usually buy your books.
Taste Tibet is open all the usual hours this week, as follows:
Wednesday: 5-9.30pm (dinner only)
Thursday – Saturday: 12-3 (lunch) / 5-9.30pm (dinner)
Our menu is out now – check the website for full details. Come by for dine in, hot food takeaway or freezer food. We're also well-stocked for Sepen Chilli Oil and Pickled Mooli Radish (recently endorsed by Masterchef champion Saliha Mahmood-Ahmed) – these will make great stocking-fillers. And if you'd like us to bag you up some of Yeshi's chocolate tsampa truffles, we can do this for you in a gift package as well.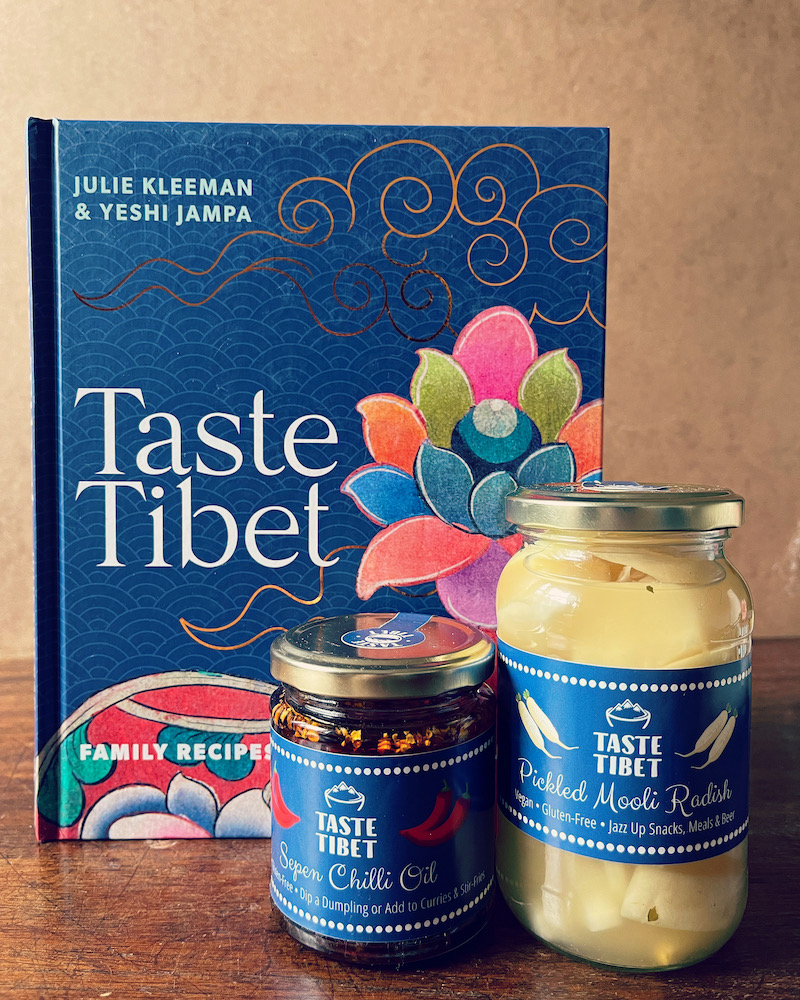 Looking forward to seeing you soon!
Julie and Yeshi
Opening hours this week:
Weds: 5-9.30pm
Thurs – Sat: 12-3pm 🥢 5-9.30pm
☏ 01865 499318
Are you loving the Taste Tibet cookbook? Please leave us a review if so! ⭐️⭐️⭐️⭐️⭐️