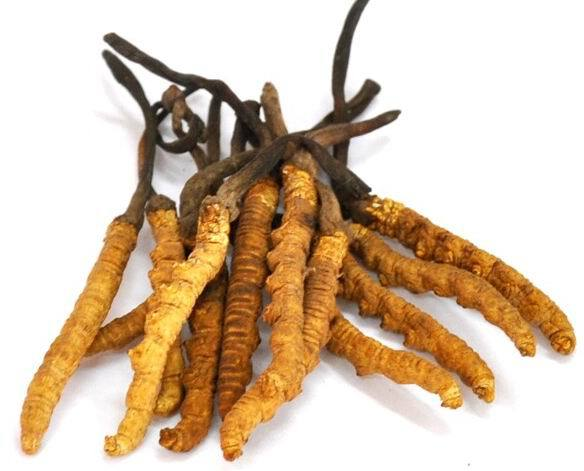 Since ancient times, traditional Tibetan healers have used natural formulas to promote health and longevity. Mushrooms play a key role in Tibetan medicine, as they have done in medicine the world over for thousands of years.
One particular mushroom, which is native to Tibet, is "yartsa gunbu" — "summer grass, winter worm". In the west, we know it as Cordyceps sinensis, or caterpillar fungus. For years, Tibetan people thought that yartsa gunbu was a living worm, but it is actually a fungal spore that kills insects such as caterpillars, and feeds off their tissue.
Found in the mountains of Tibet at elevations between 3,500 and 4,700m, the caterpillar fungus is recommended by Tibetan healers as a tonic for all illnesses. It is used for kidney and lung ailments, to treat cancer, and to boost the immune system. It is also said to help raise energy levels, to regulate sleep, to aid digestion, increase stamina, and to stimulate the libido.
This so-called "Himalayan Viagra," has become so sought after in China for its medicinal and aphrodisiac qualities that in recent years it has become worth its weight in gold.
The Cordyceps business has brought great riches to some in Tibet, but as demand grows, there is an inevitable environmental cost. The fungus itself is at risk of over-harvesting due to high market demand. Then there is the problem of littering in pristine alpine parts by an increasing number of outsiders hoping for a share in the spoils. Heavy footfall also damages the grass, which in turn affects the quality of the feed for the yaks.
Traditionally, yartsa gunbu was used more like a food than a medicine, and was often added to soup with pork or chicken. At today's prices, nobody can afford to eat like this now. If Tibet's ecosystem fails to cope with escalating demand, the caterpillar fungus will disappear not only from the menu, but also from the medicine cabinet. There are few guarantees in Tibet, but change is one of them.
#tibet #taste #medicine #yartsagunbu