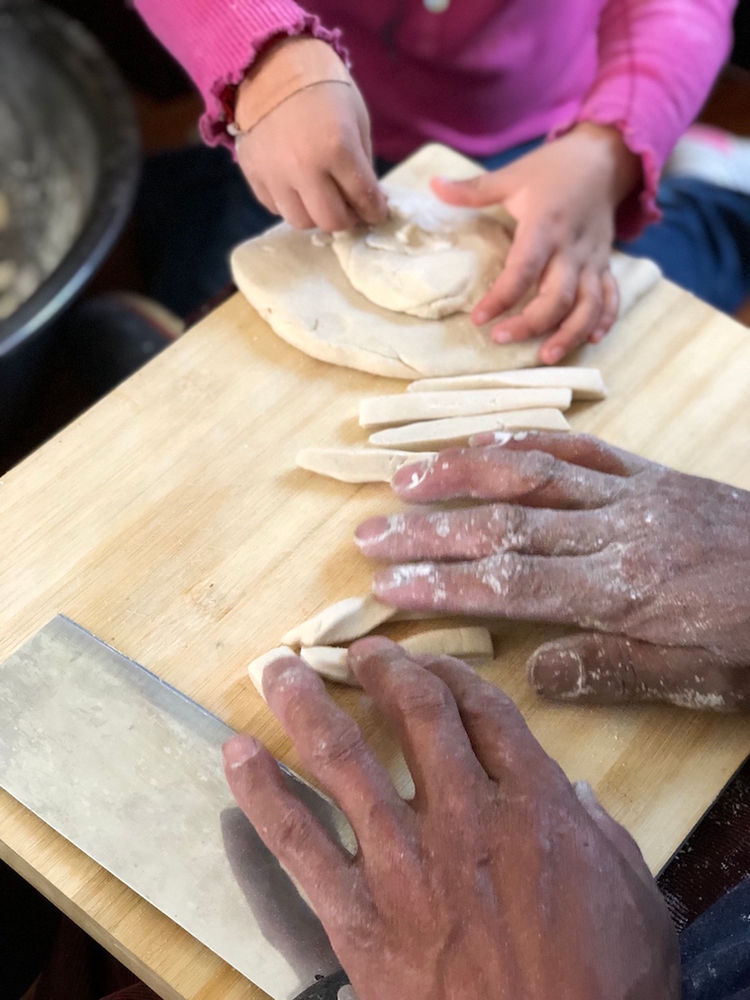 We have spent the last few weeks with family in Tibet. Parking work to one side for this brief spell, there was really very little doing for us apart from shopping for food, cooking and eating (check out our Instagram page for photos galore). It was a wonderful reminder of the massive part that food plays in Tibetan daily life, something easily forgotten in our own busy lives back in the UK.
In the west, food is often a last consideration, and frequently it is consumed alone. Lunch breaks have long since ceased to the sociable affairs they once were. As for dinner, who buys it and who cooks it can often be a source of contention within the home. In our busy working lives it can feel more like a chore than a pleasure.
By contrast, in rural Tibet the day revolves around mealtimes. Breakfast fuels a morning of physical work, and lunch and dinner are something to look forward to as an opportunity to sit down, take time out, and savour the fruits of our labour. With no convenience foods at our disposal, and sometimes no shops close by to provide even the basic raw materials, meals must be planned in advance, and they take time to prepare, and many hands to make happen.
In Tibet, most meals feed the extended family that lives together, and this means that between ten and twenty people are eating together three times a day. It is always a collaborative effort, and surely this adds to the pleasure.
We are back from holiday now and cooking for you this Wednesday at our stall in Gloucester Green and …. here's the exciting bit …. also on Thursday back at Silvie. We have suitcases full of the good stuff from Tibet (Tibetan peppercorns, dried mushrooms, and so on.) so come and fill your bellies! Details as follows:
Gloucester Green Market
Wednesday 9am-4pm, Gloucester Green, Oxford OX1 2BU
Taste Tibet @ Silvie
Thursday 6.30pm – 9.30pm, Silvie Bakery Cafe, 281 Iffley Road, Oxford OX4 4AQ
#tastetibet #tibet #tibetan #communalcooking