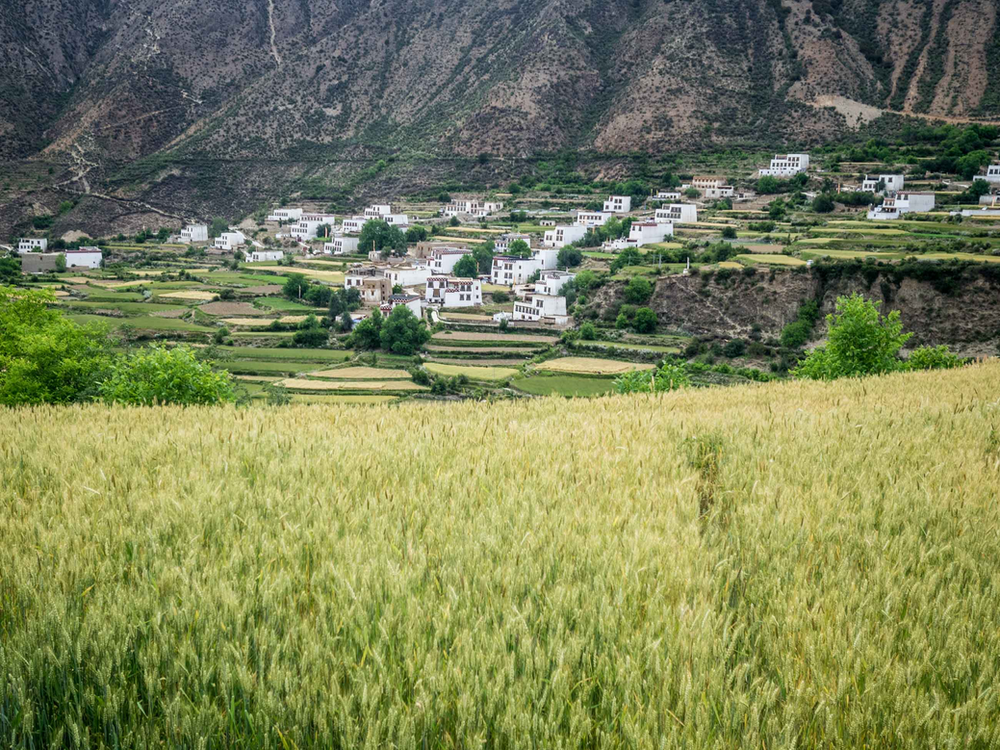 Touch wood and all, but our kids seem to stave off sickness better than most kids. My mum says that when I was little the same was true for me. I did myself a few horrible injuries in Tibet when I was small, including one that left my big toe permanently squashed (huge rock falling from a great height), but I was famously never ill.
Apparently it's all about the barley. When I was little, we lived off tsampa, or roasted barley flour. This was pretty much all I had with me when I left Tibet, and it saw me through the arduous journey across the Himalayas to India.
Our kids eat tsampa for breakfast now. I keep a stock of roasted barley flour, and in the mornings I mix this with boiling water, a little butter and cheese. It makes for a powerful start to the day: barley is very high in fibre, and packed full of vitamins and essential minerals. We don't worry about school lunches if the kids have eaten a good bowl of tsampa for breakfast .
Tsampa is not easy to roast: you have to keep it moving all the time or it burns. I roast it in small batches at a time, and then run it through a table-top electric mill. In Tibet, the job is a lot harder. For starters, we roast much larger batches. Then the barley is ground through a water mill like the one below. We had one of these in our village in Tibet, and then my family built another because one was not enough. Anyone is welcome to use either, at any time.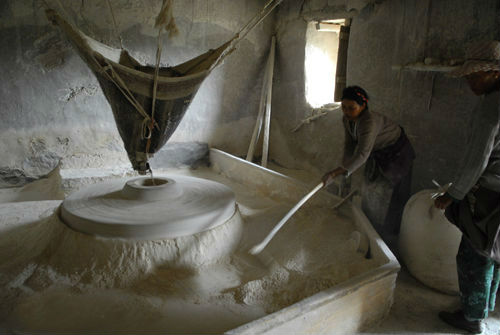 Water mills are ingenious inventions! In Tibet, the abundant water resources make them the natural choice. They are a real showcase for the talents of Tibetan people in mechanical manufacturing and grain processing, methods that are also environmentally clean and highly energy efficient.
As for barley, it is often referred to as the staple of the Tibetan diet, but a little-known fact is that this cereal was actually imported from the Middle East many thousands of years after humans first settled on the Tibetan plateau, and that once introduced, it enabled communities to move higher up the mountains than they had lived before.
Barley is frost-hardy, and adapts to the harsher conditions of the higher altitudes of the Tibetan plateau better than millet, the grass that fuelled earlier generations here. It was introduced about 4,000 years ago at a time when Tibet was in fact getting colder, but also more overpopulated at lower levels. Barley enabled communities to move to higher elevations, and they probably lived at these high altitudes permanently to tend to their crops, as barley has a longer growing season.
Today, Tibetan people likely can't imagine life without barley. Even as eating habits are changing, tsampa stands the test of time, and the barley brew chang, or Tibetan whiskey, certainly trumps Chinese beer and other alcoholic offerings. Some traditions are here to stay.
#tastetibet #tibet #tibetan #barley #tsampa