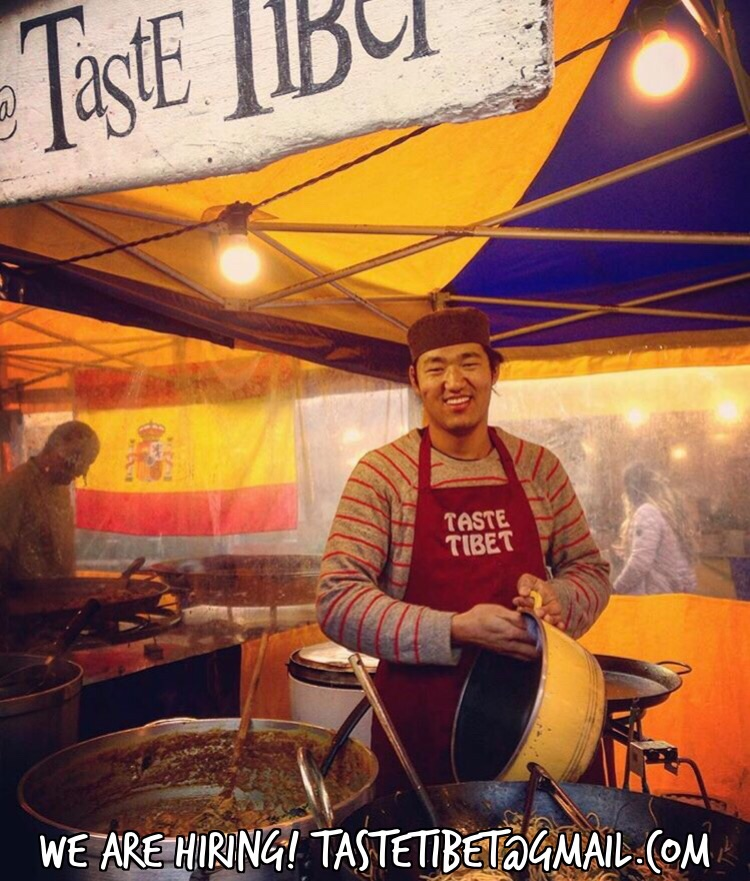 Those of you who have followed Taste Tibet since our first crazy outing (a sell out of 1,600 momos in Jericho back in 2014) will know that our business took off very fast, and that we haven't had much time to stop since.
We have been bowled over by everyone's support and encouragement. This has kept us going through the long nights rolling out dough and steaming momos. It has often been hard to keep up with demand!
We have had a lot of help with cooking and logistics from members of the Tibetan community here in Oxford, as well as other key staff who have driven us from A to B and B to A (thrilled to say that Yeshi can do this for himself now – a huge leap!), but as Taste Tibet grows, so does the need for permanent members of staff. The time has come to take people on full time, so we're putting it out there!
Regular visitors to our stall in Gloucester Green will know that Taste Tibet has gained a loyal and loving following, and that the queues can be pretty long at lunchtime. Yeshi needs help cooking and serving up, so we are looking for both chefs and serving staff.
Then there are the festivals. This summer we are hoping to take our Tibetan tent to events further afield, and to bring Tibetan tastes to bigger crowds. Would you like to join us for the summer festival season? We will need many pairs of hands to make the big festivals work. This isn't work for the faint-hearted, but if you love our food and you love the festival scene, it is definitely a great opportunity.
If you think you can help us in the kitchen or at the stall, year-round, or for the summer season only, on whatever basis – we would love to hear from you. Or if this isn't you but you know somebody who might fit the part, please do share!
This is an opportunity to become part of a fast-moving and fast-growing business, to become involved in all aspects of the work if you are interested, and of course to eat momos and curry all year round.
There must be many people out there…
Email us to register your interest! We really look forward to hearing from you.
Thanks one and all, from Julie and Yeshi.
#tibetan #taste #tibet #hiring #festivals