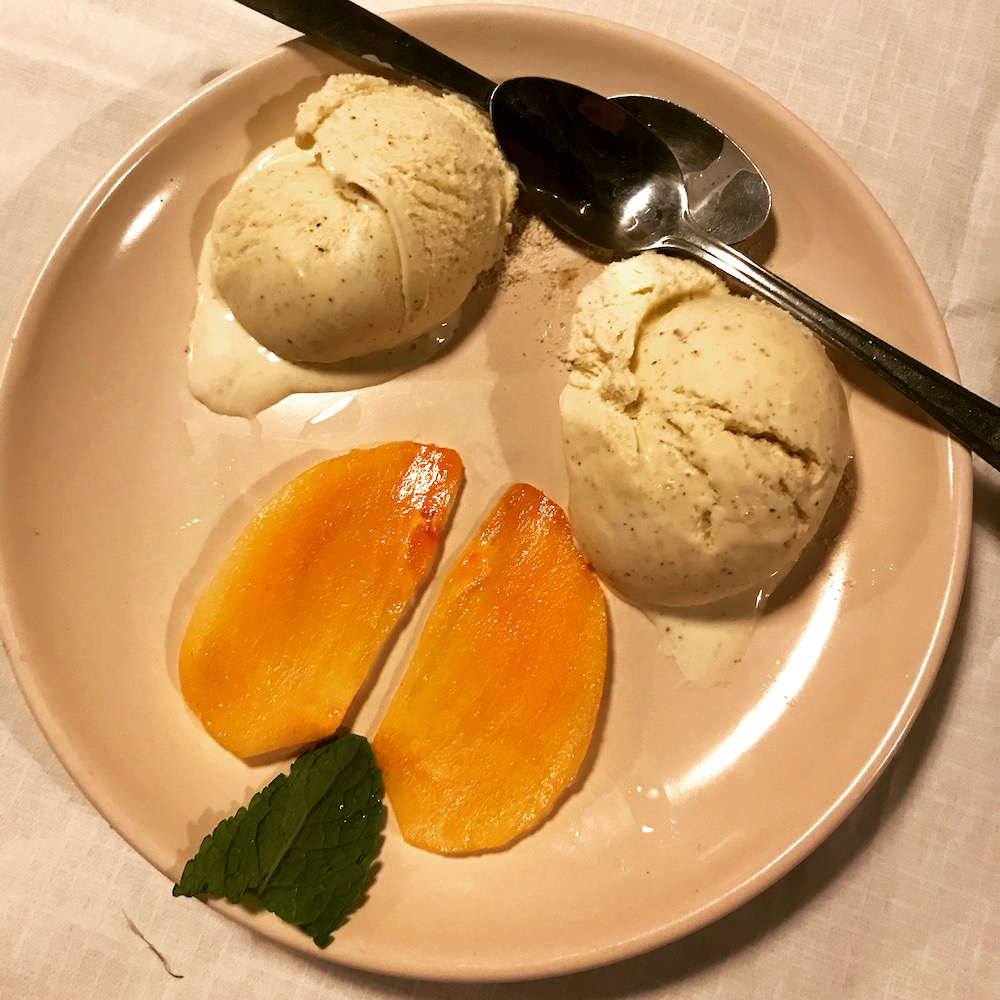 We have finally landed a delicious dessert on the menu at our pop up at Silvie. Ice cream is of course a known thing, but we have created a uniquely Tibetan twist on it that turns it into something a bit different. I shall say no more. Make sure that you come and sample our new dessert for yourselves this week, and let us know what you think!
Dessert isn't really a fixture in Tibet. When we gave Yeshi's parents their first taste of chocolate back in 2016, they thought it was disgusting. Yeshi also claims to find many things "too sweet" (but our children don't buy it: they have renamed him the "secret chocolate eater", as some treats appear to go down very well after they have gone to bed).
In Tibet, sweet food, where it is eaten at all, is often consumed alongside the savoury. Dre-si, a sweet dish made with rice, is usually served at Losar (Tibetan new year) along with other savoury delicacies. The rice is cooked in unsalted butter and mixed with raisins, droma (a gourd shaped root found in Tibet), dates and nuts.
Another sweet dish, sometimes seen in Tibetan restaurants overseas, is bhakcha markhu, which is actually a hand-made pasta-based dish. Cubes of pasta dough are cooked with sugar, butter and grated cheese. It works!
Even the sweetest treats in Tibet are typically made with cheese, which lend them a savoury undertone. Thue is made with yak cheese, walnuts, brown sugar and unsalted sweet cream butter. Tu is a kind of cheesecake pastry.
In Yeshi's village at low altitude Tibet, where there are two harvests in a year, all kinds of fruit trees thrive and provide an abundance of pleasure for those with a sweet tooth. Honey is also widely collected and used in snacks and with bread.
An abiding memory of our most recent trip to Tibet is that of Yeshi's aunt tipping the full sachet of sugar we'd brought from the plane into her mouth without glancing around at all. The kids count it among the funniest things they have seen. Chocolate may not have gone down well, but sugar is clearly not an unfamiliar experience. We reckon that family back home would love ice cream – perhaps something to introduce on our next visit.
#tastetibet #tibet #dessert #sweets #tibetan #tibetanfood