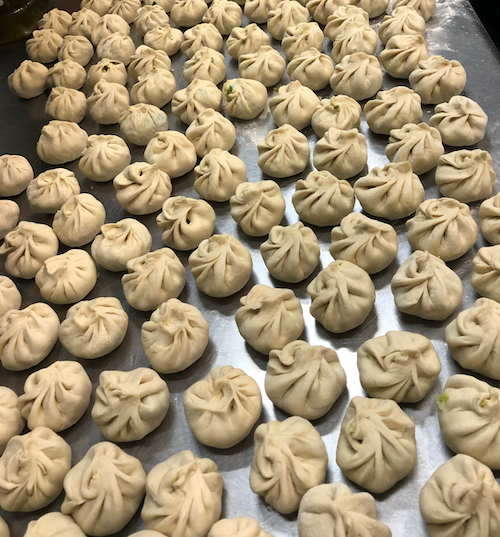 My hands are my most important commodity. This week one of our menu boards fell hard onto my left thumb. It hurt a lot, but quite quickly my thoughts turned from the pain into concern for my momos. Dumpling-making was due to resume the following day, and I wasn't sure I'd be up to it.
Hands play a hugely important role in all parts of the momo-making process – kneading and rolling out the dough – and the thumb is crucial in the last, and trickiest step: the pleating of the dough over the momo filling.
In Tibetan kitchens we do not have the luxury of machines, and we rely heavily on our hands in general. Before the arrival of rice from China, Tibetan dishes were traditionally eaten with tingmo (steamed buns) or balep (Tibetan flatbread), used as a scoop under the meat or the veg. Both tingmo and balep are prepared by hand, and eaten by hand.
Eating hand to mouth definitely adds to the experience. Momos are surely enjoyed best when squeezed a little between the thumb and the index finger, and they are certainly easier to dunk into sepen (hot chilli) when chopsticks or other cutlery are removed from the equation.
My thumb has recovered, and momos are on the menu as normal this week, both in Gloucester Green market (Wednesday) and at our pop-up at Silvie in East Oxford (Thurs). We will provide the cutlery as usual, but feel free to enjoy Tibetan style!
Gloucester Green Market
Wednesdays, 9am-4pm, Gloucester Green, Oxford OX1 2BU
Taste Tibet @ Silvie
Thursdays 6.30pm-9.30pm, Silvie Bakery Cafe, 281 Iffley Road, Oxford OX4 4AQ
#tastetibet #tibet #Silvie #popup #momos