It's festival time! This weekend we kick off our season at Wood. It's our fourth year running at this wonderful local festival of music and nature.
If Asian street food is your thing, you may be looking for some insider's advice if you're heading to festivals this summer, planning a day out in London, or thinking about booking a trader for an event of your own.
In this special guest post, we've teamed up with Feast It, an online marketplace for street food caterers, to dig you out seven of the UK's most awesome Asian street food traders (including yours truly!).
Feast It are the largest street food booking platform in the UK. They handpick each trader for their site based on their delicious food and drink, their event catering experience, and their beautiful market stalls and food trucks.
You can book Taste Tibet and these other creative caterers on feast-it.com for weddings, parties and corporate events. Enjoy!
Taste Tibet, Tibetan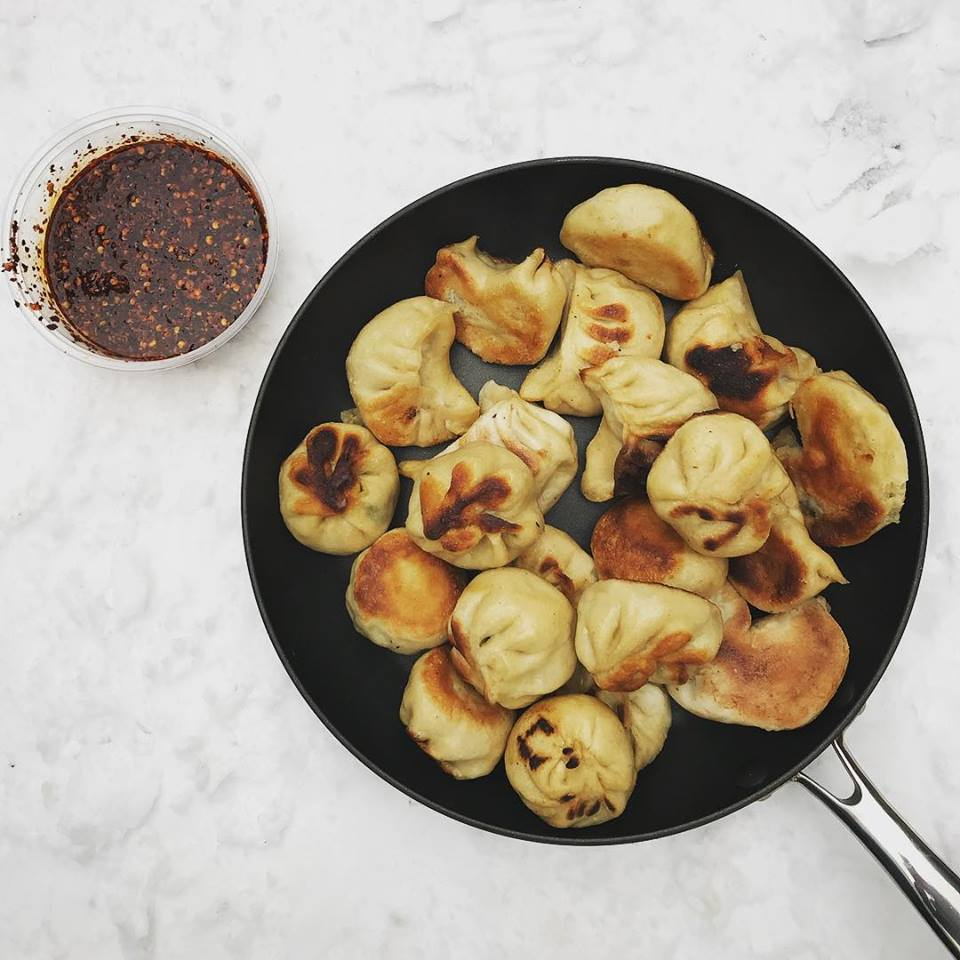 A rare find in the British street food scene, BBC Good Food Magazine called them a "hidden foodie gem" and they were included in the Guardian's Top 10 picks for Oxford… This is none other than Taste Tibet! Unique and delicious Himalayan soul food, all served from a stunning and colourful nomadic Tibetan tent. Their melt in the mouth momo dumplings are pretty legendary, and Yeshi Jampa, who was brought up in rural Tibet, also serves a range of rich and fragrant gluten-free Himalayan curries!
We love: The Tibetan Momo Dumplings… with a beef and a vegan option there's no excuse not to get stuck in to some of Taste Tibet's famous delicate dumplings. They're steamed to perfection and handmade with love by Yeshi.
Lion City Kitchen, Singaporean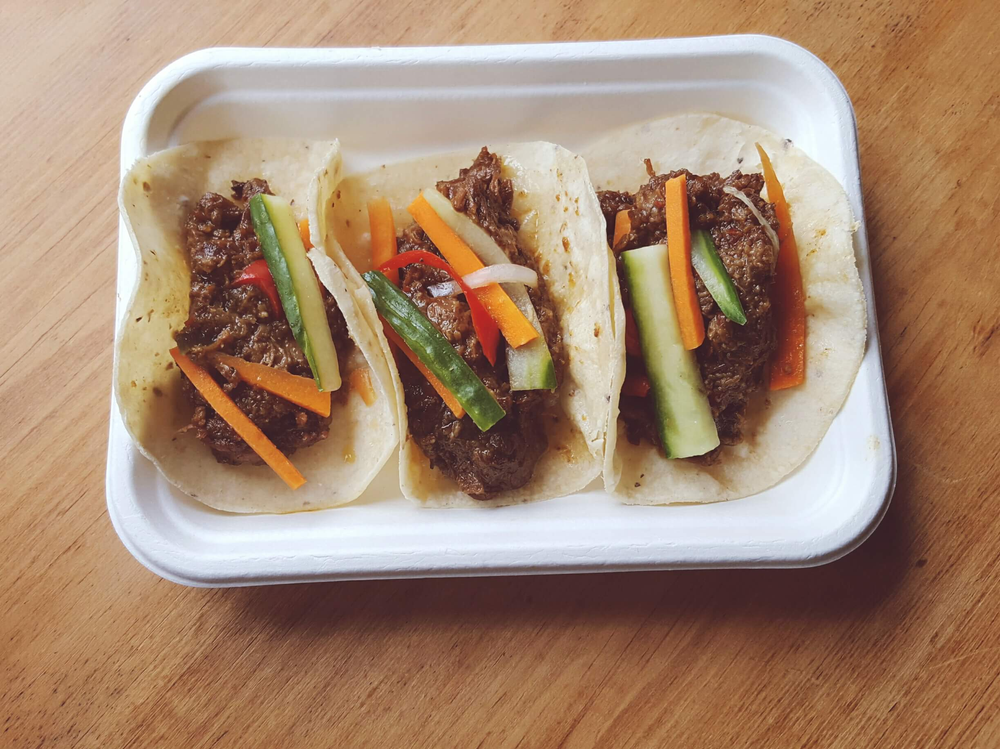 Singaporean cuisine is all about rich sauces, succulent meats, fresh crunchy vegetables and tonnes of colour, and Lion City Kitchen tick every single box. Their food is forward-thinking and powerfully flavoursome, yet humble, inspired by traditional Singaporean street hawkers.
We love the Rendang Tacos… sumptuous beef brisket and shin, slow cooked for six hours in coconut milk and malay spices, with pickled carrot and cucumber.
Pad + Sen, Thai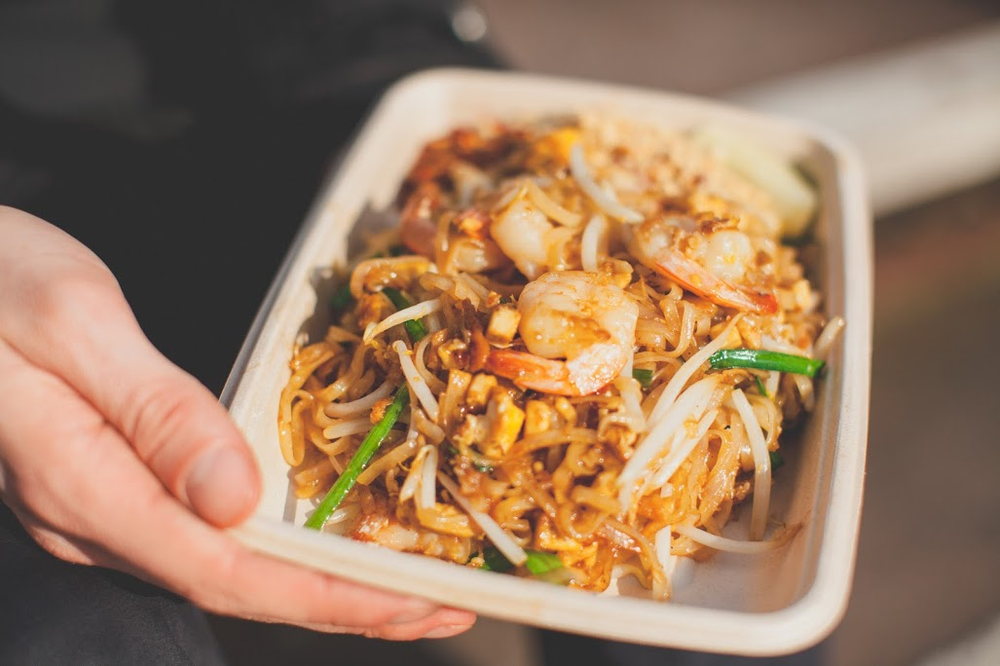 Pad + Sen create Thai street food just how it's made in Bangkok's bustling streets… fresh, innovative ingredients combined with ancient recipes and family cooking secrets! Their authentic and mouthwatering Pad Thais are simply stunning and they also make a pretty mean green curry.
We love the Signature Sen Chan Pad Thai… rice with tender crab meat, crunchy bean sprouts, Chinese chives, egg and green mango.
Rainbo, Japanese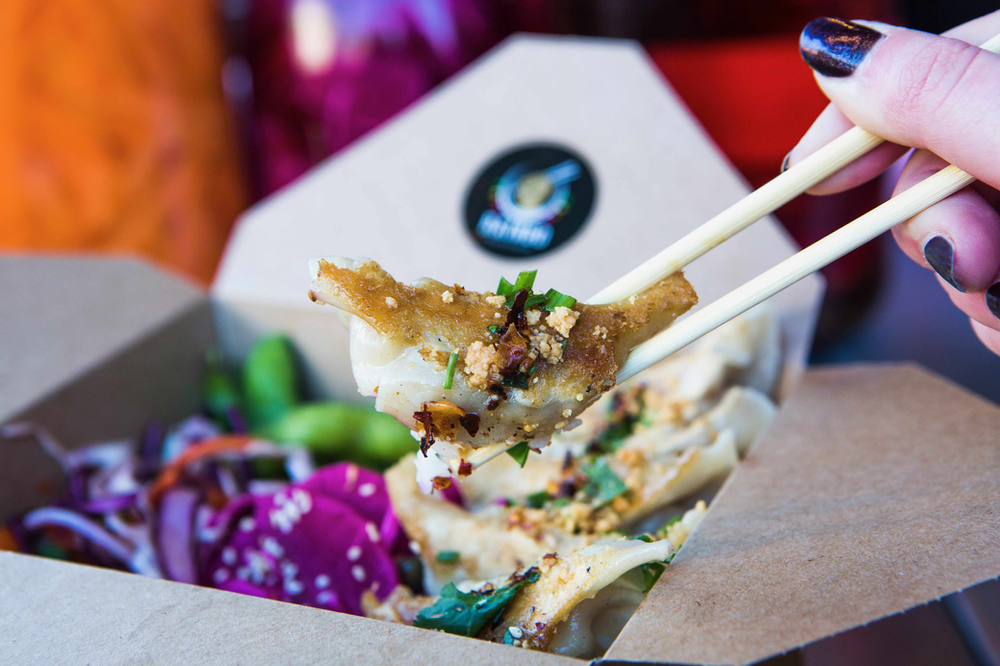 Rainbo are masters of creative Japanese soul food, served from their awesome 1948 Ford Pick Up! Their food is incredibly healthy, fresh and exciting, all created with a special little Rainbo twist. The Evening Standard rated their gyoza amongst London's top 3, and they also make chicken yakitori skewers, aubergine and sweet potato curry, Okinawa purple fries and more!
We love the Katsu Wrap… A chicken or pumpkin wrap filled with sticky rice, a rich homemade katsu sauce, house pickles, Asian slaw and homemade chilli oil.
Nah Trang Kitchen, Vietnamese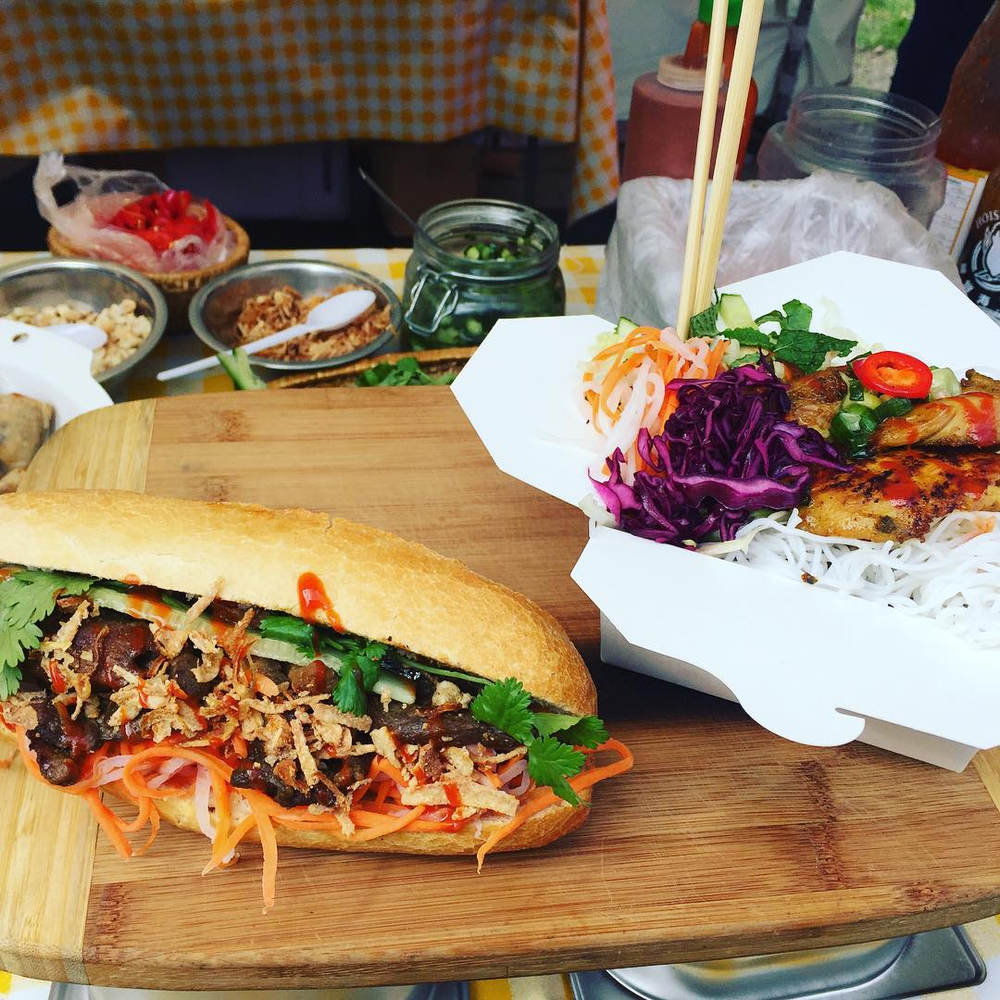 Some of London's most authentic Vietnamese cuisine, Nha Trang Kitchen create dishes using recipes passed down through generations, resulting in fresh and vibrant food. Their summery rice paper spring rolls are incredibly bright and beautiful and they can even create canapés for events, like bánh mì sliders.
We love the banh mì… If you've ever travelled to Vietnam, Nha Trang Kitchen's banh mì will transport your taste buds right back to its eclectic streets. Lemongrass chicken, caramelised pork or tofu with mayonnaise, sautéed spring onion, a rice peanut sauce, chilli sauce, pickled carrots, cucumber, coriander, fresh chilli and fried shallots in a big fluffy baguette!
Mei Mei's Street Cart, Chinese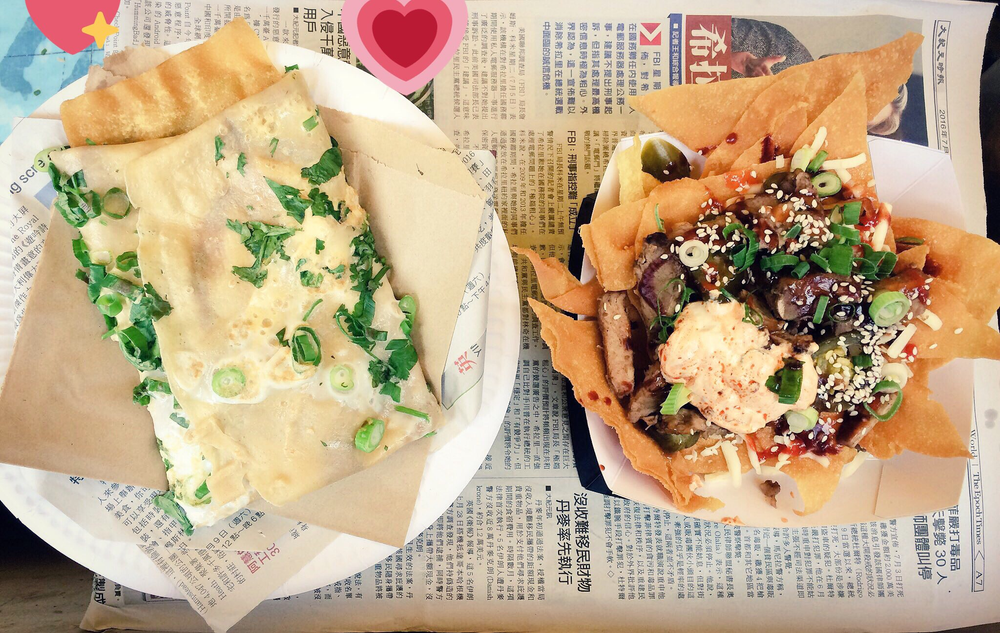 This unique, award-winning street food trader specialises in Jianbian, a traditional Chinese dish from Beijing that takes the form of a savoury crepe, with a choice of meaty or vegetarian fillings. Met Mei's Street Cart has appeared in the 2016 Sunday Times' list of the best Chinese food in the UK and they're the only trader in the country to serve Jianbian!
We love the Char Siu Pork Jianbian… a crispy savoury wheat crepe with egg, spring onions, fresh coriander, wonton crisp, hoisin, chilli sauce, and pork with a sweet, sticky char siu marinade.
Dumpling Shack, Chinese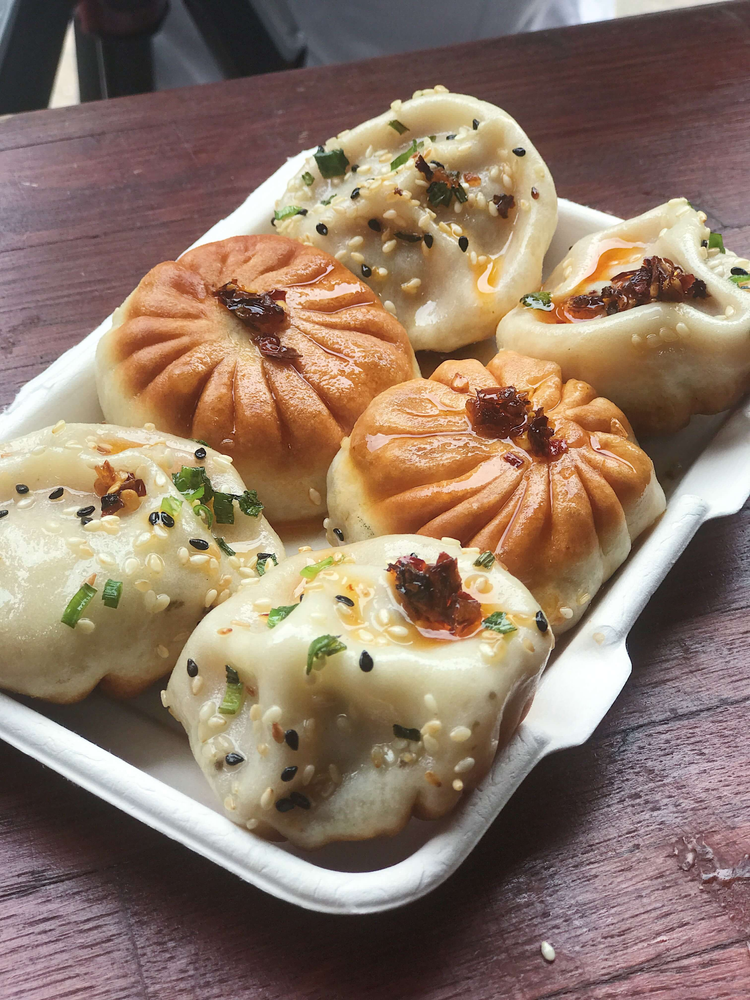 Since opening in 2014, Dumpling Shack have been serving the capital with their authentic and delicious Chinese dumplings, which are completely handmade from scratch, crispy on one side and tender on the other, dripping with flavour.
We love the Pork Shengjianbao… a sumptuous and ever so slightly addictive soup dumpling originating from Shanghai. They're made fresh every day using pork, water chestnuts, leeks, sage, sesame oil and soy sauce!
#tastetibet #tibet #guestblog #asianstreetfood #streetfood