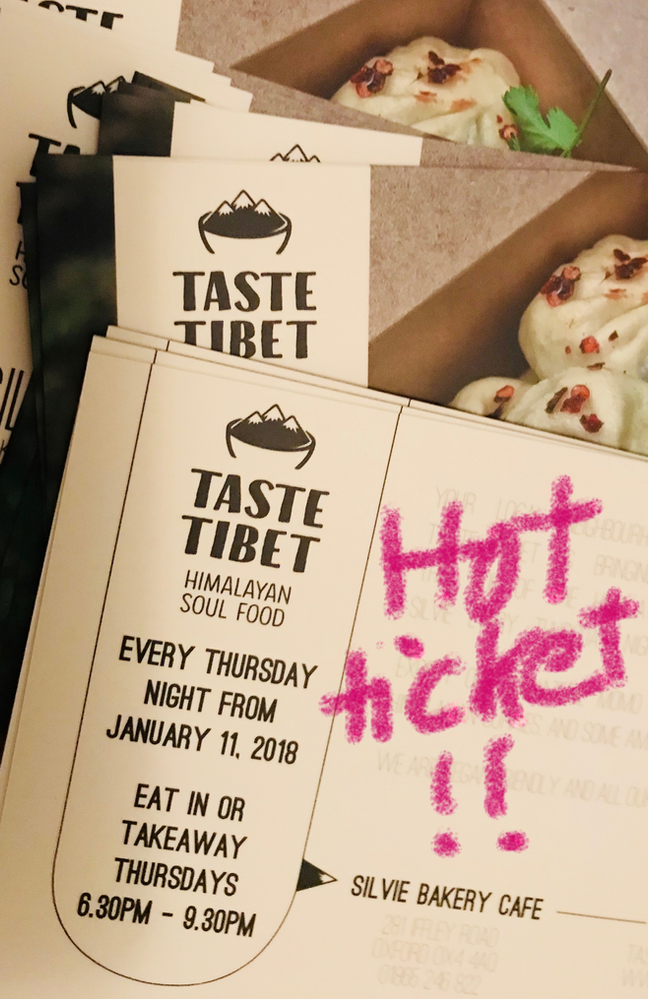 Post from the heart.
Our Taste Tibet pop up started last Thursday at East Oxford bakery cafe Silvie, and it was massive!
Yeshi says he expected it. He remembers well the enthusiasm and support of our local East Oxford community back when we used to run a takeaway from our own home (we really did that).
I was less confident of a runaway success. Plus, when I saw the mock-ups of these fabulous flyers from Bounce I knew that I wanted them, and I felt sure that others would feel the same. Yeshi told me not to post them. He feared large numbers on our opening night.
Well, turns out he was right. We had a full house all evening, and another 35 or more peeps through the door for takeaway as well, feeding families and friends back home.
Thank you to everyone who came out to support us on our first night, and especially to the staff at Silvie who did an amazing job to ease the chaos! This was the first time that Taste Tibet has operated out of a cafe space. Our biggest challenge was cooking in a kitchen that was new to us, but we are also novices at table service, and had to do some fast learning in getting takeaway orders out in the order in which they were taken…
This week, expect more food, more staff, and more know-how!
To those of you for whom this will be your first Taste Tibet/Silvie experience, we say welcome with more confidence than we did last Thursday. And to those who are returning for more this week, please sling us your feedback and help us to improve the experience. You can post in the comments below, or send us an email. We really value your input.
Finally, a special shout out the people of East Oxford where we live, and where our pop up is running: your moral support is everything to us. Tibetan food is not for everyone every week, and your encouragement from the sidelines always means more to us than your custom. If the hunger calls, please come, but if it doesn't, Yeshi will surely be happy for one less mouth to feed!
Taste Tibet @ Silvie – Where/When?
Thursdays 6.30pm-9.30pm, Silvie Bakery Cafe, 281 Iffley Road, Oxford OX4 4AQ
#tastetibet #tibet #Silvie #popup #momos #curry