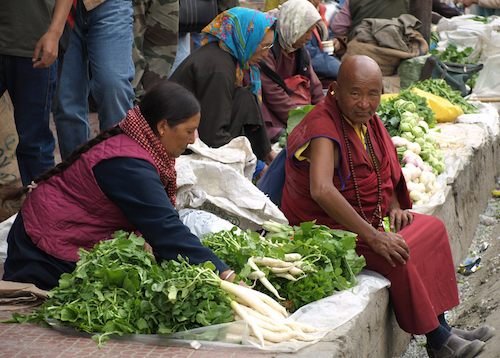 There were no shops in the village where I grew up in eastern Tibet. There is a small store there now. My family say that the upshot of this is that young people no longer eat so healthily. They say that the kids have become used to, even addicted to Chinese junk food. And that they are becoming fussy eaters, turning their noses up at the food that village people have been preparing and enjoying for generations.
There were no shops in my village because at home we grow all the vegetables, fruit, nuts, grains etc. that we need. We also rear our own livestock. What we cannot provide for ourselves we swap with friends and relatives from other villages. Probably the only thing that we have ever needed to buy in is rice, a relatively new addition to the Tibetan diet.
Coming to the UK, one of the biggest surprises for me was to see how people buy their food. Even in India, where I lived for many years, food shopping was always local and small-scale, and vegetables could only be purchased in season. Usually I would buy from a man squatting by the side of a road. He would have a few bunches of something at his feet, and he would weigh out what I wanted and wrap it up in a sheet of old newspaper.
Food shopping in the UK was quite a culture shock in the beginning. How strange that there should not be food markets within easy walking distance, or not every day of the week. How strange that everything was wrapped in plastic, and supplied in such small quantities. I missed being able to pick potatoes out for myself – to touch them, smell them, to sort the wheat from the chaff. Why did everything come bagged up? Were the shops hiding bad vegetables in there, or did people prefer to buy them in this way? If so, why?
Now that we buy large amounts of vegetables for our business I do gain access to the raw materials, so to speak. I get to see the veg in its boxes, before it's been bagged up. I get to pick my suppliers, and to build relationships with them. I meet local people who grow their own veg, and sell on their surplus. I don't mind at all washing off the extra mud, knowing where it comes from.
When it comes to the big wholesalers, however, I still experience something of a culture shock. I've only recently learned where the Indian shops on Cowley Road source all of their dal, and after three trips to Southall in west London, where the biggest Indian cash and carries are based, I still cannot get used to shopping in this way.
Last weekend I made one such visit, buying enough rice and flour to start myself a corner shop of my own. Probably enough to feed my whole family in Tibet for near on a year. They would be amazed to know that shopping can look like this, and probably horrified. Where is the human element in food shopping, Ikea style? My only real point of human contact in Southall came at the end of my shopping trip, when I paid a guy to help me load my van. This is more how things work in Asia, and it helped me to feel slightly more at home.
#tastetibet #tibet #foodshopping #vegetables