Isn't it great when everything goes to plan? Isn't it great when it doesn't? Tibetan Buddhists say that it's our attachment to things going one way or the other, our inability to let go of how situations should be instead of accepting how they have actually panned out that cause us all our pain and suffering. Not events themselves, but our response to them, our clinging to ideas.
Just back from India, Yeshi has been enjoying relative calm. He'd forgotten how chaotic everything can be. On his second day in Delhi he got locked in his hotel room and had to wait many hours to be rescued and the door to be fixed. Luckily he still had some Co-op easy peelers in his bag to keep him going, plus of course a spot of life training in accepting events for what they truly are.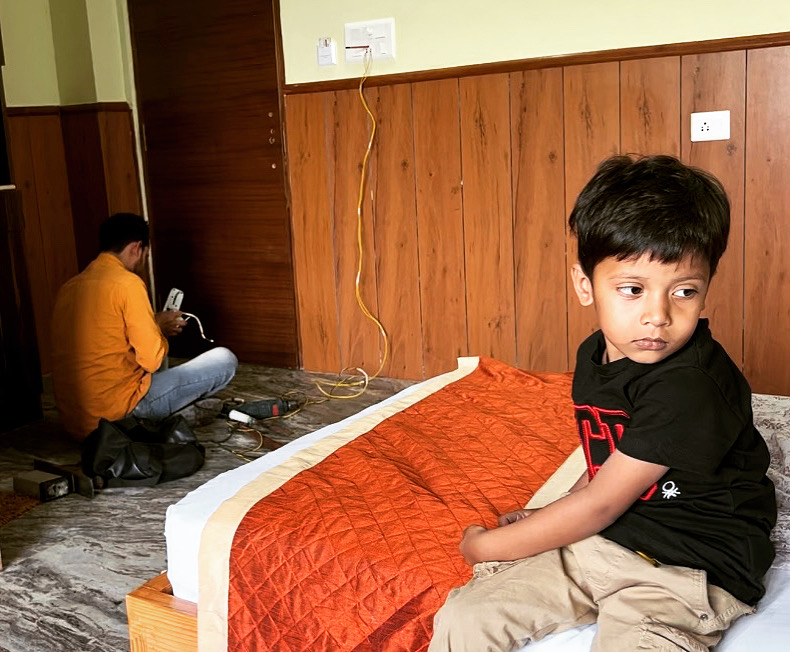 In England things usually work, and when they don't then the locksmith doesn't turn up four hours later with his three year-old son in tow. But then there are the conventions and regulations. Yeshi is fine with chaos, but he's no friend of rules. In Tibet and India, where he lived for many years, the pay-off for everything being a bit loose and rough around the edges is the freedom and possibility that goes with. It's useful to be able to bring your kid with you to work if you need to after all, and what he wouldn't have given at the MOT Test Centre yesterday when discovering – on arrival – that someone had backed into his van and cracked the front number plate the night before. There was just enough time to nip to the shop for a replacement, but no! Not without the vehicle logbook he keeps at home. Oh India, land of possibilities…
We often say to each other that TT would be nothing without Yeshi but also nothing without me. I can spare Yeshi from the endless law-abiding that's required behind the scenes – the bookkeeping and payroll, the constant switching of utilities suppliers, Pest Control, the music license people, the business and van insurance, the fire extinguisher, gas, electric and hygiene certification, the festival applications, the landlord inspections, environmental health…
Sorry. Every year I have a rant about this stuff, but then again I haven't had training in radical acceptance – yet!
We're open all the usual hours this week, as follows:
Wednesday: 5-9.30pm (dinner only)
Thursday – Saturday: 12-3 (lunch) / 5-9.30pm (dinner)
Come and see us and bring some chaos!
Our menu is out now – check the website for full details. Swing by for dine in, hot food takeaway or freezer food, our chilli oil and signed copies of our cookbook.
Looking forward to having you in!
Julie and Yeshi
Opening hours this week:
Weds: 5-9.30pm
Thurs – Sat: 12-3pm 🥢 5-9.30pm
☏ 01865 499318
Are you loving the Taste Tibet cookbook? Don't forget to leave us a review! ⭐️⭐️⭐️⭐️⭐️