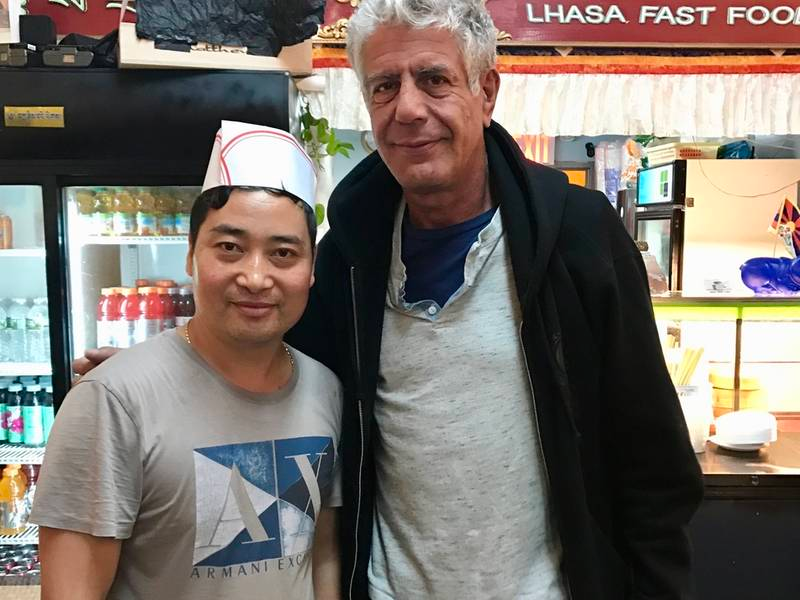 TV Chef Anthony Bourdain, who died this week, was a huge advocate of street food. He described it as "the cure for fast food chains".
Bourdain had hoped to create a food market in New York City to rival that of Singapore or Hong Kong. "Anybody's grandma's food," he once said, "is preferable in my mind than a fine dining restaurant in almost every case."
Bourdain, who was arguably the food world's biggest star, described food, and particularly street food, as a "reflection of who we are, where we come from and what we love", adding that "there is nothing more political than food… The ingredients, whether they are dried, they are pickled or preserved, these are reflections of long, often painful histories."
In an episode of Parts Unknown, shot in Queens, New York, Bourdain famously sampled thentuk (Tibetan hand-pulled noodle soup with chilli and ginger), shaptak (Tibetan chilli-fried beef), and sha momo (Tibetan steamed dumplings, stuffed with beef). The picture above shows him at Lhasa Fast Food in New York's Jackson Heights just last year.
Bourdain was a huge inspiration to us and to many in our industry. He helped to dispel many myths about street food, claiming for example that in India it is safer to eat on the street than in the hotel. "Follow the locals," he said, "Period. It's the secret to staying healthy and also kind of the whole point of travelling."
Everyone who enjoyed Anthony Bourdain's programmes will surely miss him. We are certainly inspired to push forward our own business that we have built from the ground up, to stand up to the big chains even as many independent businesses in Oxford fail in the face of rent and rates increases, to keep alive – against the odds! – the food traditions that we are so proud to share. RIP Mr Bourdain.
#tastetibet #tibet #tibetan #anthonybourdain #newyork #jacksonheights