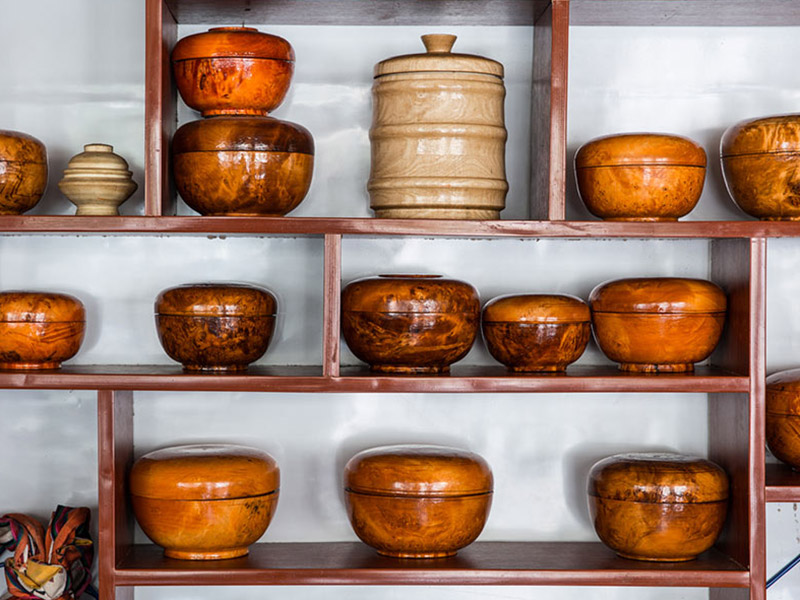 An old Tibetan folk song likens a lady lover to a wooden bowl. It may not sound romantic, but traditionally Tibetan people owned one bowl for life, and they would take this bowl with them wherever they went, "in their bosom", as the song goes.
The Tibetans are a nomadic people, and their traditional dress is designed to hold all kinds of useful objects. A Tibetan nomad will produce his or her bowl, handkerchief, wallet, even a baby from these amazing robes without the slightest hint that anything was hidden in there at all.
The bowl is the most useful object of all. It will be used many times a day to provide hot butter tea, the essential warmer at high altitude. Tibetan people claim that butter tea tastes better in a wooden bowl than in anything else. It also adds something to the taste of tsampa (roasted barley), the Tibetan staple food.
Because of this, and because of its durability, cheap china from China hasn't yet pushed out the traditional Tibetan wooden bowl, even though this is widely available now on the plateau. Today, young people in Tibet frequently use more than one wooden bowl in their daily life, but traditional production methods continue to be used in many areas.
The ancient method involves carving the entire bowl from one solid wood piece. Typically this comes from the roots, trunk or knot of both hard and soft trees, depending on the desired use and effect. My father and brothers still make beautiful bowls for my family, and they are also skilled in the art of polishing the wood, which brings out all its natural patterns.
Next time you are at our stall, take a closer look at the bowl that holds our takeaway forks. It isn't the finest piece of wood we have brought back from Tibet, but it is handmade by my dad, and certainly older than me!
#tastetibet #tibet #tibetan #bowl #tableware #traditional