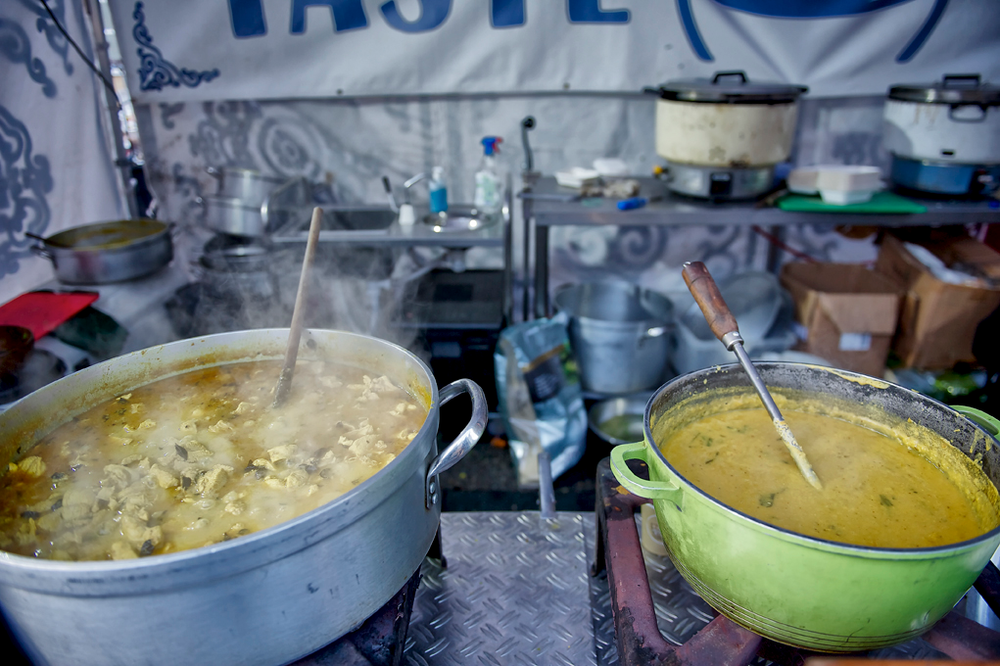 "What do you do with all the leftovers?"
People are often amazed at the amount of food we have cooking at our regular stall in Oxford's Gloucester Green market. Every week we cook up huge vats of chickpeas, chicken, tofu and dal, not to mention several hundred momo dumplings.
Amazingly, we usually get through most if not all of it by closing time. But there are days when it rains, and days when it's too cold for people to come out. This is England after all. What then of the food that is leftover? People often think to ask.
Gloucester Green is itself a magnet for the dispossessed and the lonely. In the mornings, while we are chopping veg, cooking chicken, frying momos, there are always people who come by for a chai and a chat. And in the afternoons, when the pots are steaming and food is ready to be dished up, we often serve homeless people, many of whom know that they are welcome to stop at our stall for a box of hot food on the house.
One of the best things about working in this industry is the opportunity that we have to feed people, whether money changes hands or not. We often say that the warmth that we receive from our customers feeds us in return. It's a wonderful exchange of pleasure.
But we get most satisfaction from passing on what we cannot sell when the day is over and there is food leftover. The feeling of disappointment quickly fades when we are able to pass it on to those who need it most.
What do we do with all the leftovers?
Oxford has a discernible homeless population. There are certainly more people living on the streets than there were when we first moved here in 2011. Oxford has a very vocal local community who lobby hard for better conditions and fairer terms (how, for example, can it be possible – on a human level – to refuse assistance to people without shelter in Oxford on the grounds that this is not their home town?), but aligning the system with the reality of homelessness here remains a challenge.
A bad day at the market is for us an opportunity to feed those who otherwise go without, and sometimes on a considerable scale.
We usually pass on our leftovers to O'Hanlon House, a hostel in Oxford city centre that provides emergency accommodation and day services for people who have been sleeping rough in Oxfordshire.
O'Hanlon House is open seven days a week, and the kitchen is one of the few services that can be run by volunteers. If you can offer your time and skills here, volunteers are always welcome.
#tastetibet #tibet #homelessness #oxford