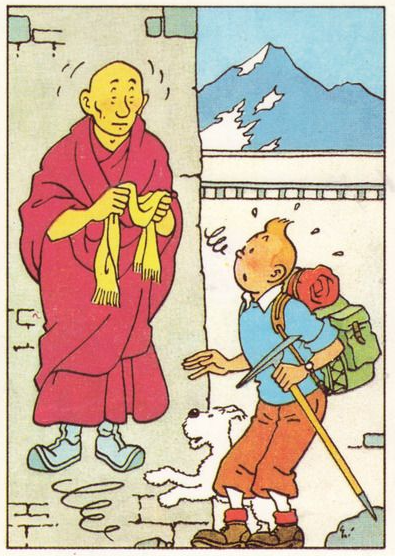 Baby it's cold outside!
Probably not the best time of year to visit Tibet, the so-called roof of the world. Or is it?
Don't tell anyone, but winter is actually a great season to travel to Tibet. By December, the hordes of Chinese tourists have gone, hotel rooms have become more affordable, and the only people on the move are Tibetans, making their regular or once-in-a-lifetime pilgrimages to the capital Lhasa and other holy places. This makes winter a great time to visit just one or two places in Tibet, but to see Tibetan people from all over the region.
The best part is that it isn't even cold at this time of year. Well, during the daytime at least. Winter is the driest season in Tibet, and because of the high altitude, the sun feels hot, and it is often warm enough to be in shirtsleeves. In Lhasa, the average winter temperature is normally around 12 degrees during the day.
Nighttime is another matter. In short, don't go out. Stay home by the fire and eat, eat some more, and then if possible sleep together in the room where your food has cooked.
In my family home, we have two fires burning all day – one to heat the house and the other, a huge wood-burning stove, to ensure a constant supply of hot water, and to serve all culinary needs.
During winter, my favourite comfort food is thenthuk, the Tibetan hand-pulled noodle soup with which some of our customers will be familiar. In Tibet this is usually meaty, made with yak meat carefully preserved from the autumn.
And then there is, of course, the fabled yak butter tea. Why butter? Food storage is a critical consideration in a harsh climate like Tibet, and this means that butter and yoghurt, dairy products that can be stored for long periods of time, are used more often in Tibetan cuisine than milk.
Unfortunately for many of the foreign tourists who have sampled yak butter tea in Tibet, their experience is not of fresh butter tea, but of tea soured with butter that has oxidised and is no longer smooth to taste. In some parts of Tibet (not mine!) a shortage of supply means that butter is preserved for longer periods than is probably sensible, and people here can become accustomed to the sour taste, a flavour that is totally unpalatable to outsiders.
What a shame! This delicious Tibetan staple is the perfect tonic at high altitude, providing optimal protein, fat, and warmth during winter. We will convince you of it yet. Coming soon to a market near you…
#tastetibet #tibet #winter #buttertea #tea