It's a premature Year In Review, but everything is accelerated right now as we're taking proper time off over the holidays. In fact, we have already celebrated Christmas as we'll be away over the festive season itself. As Jubus (Jews/Buddhists – help! I feel another blog post coming along) Christmas isn't all that anyhow, and as festival season gives us little time for a break during summer, we take it when we can.
So we should say before we go any further that this is our last week open in 2022. If you were thinking of stopping by for one more hot meal/to fill the freezer/for our cookbook/bag of tsampa truffles/jar of chilli oil, now is the time! We are open all the usual hours this week, as follows:
Wednesday: 5-9.30pm (dinner only)
Thursday – Saturday: 12-3 (lunch) / 5-9.30pm (dinner)
This week's menu is up on the website now.
As for our Year in Review, we thought nothing could top last year to be honest. We'd had our moment with a prime-time spot on Saturday Kitchen and an evening out hobnobbing with food's finest at the BBC Food Awards. But 2022 has been eventful and joyous in more ways than we could have imagined.
We started the year with an award. There have been a few of these in 2022, but this one was especially meaningful, as Ox In A Box recognised Taste Tibet for our ongoing efforts to help feed Oxford's most vulnerable. We have been providing free food to people in our community for years, an operation that we stepped up during the pandemic, and continue to prioritise in our day-to-day operations. Oxford Mutual Aid have been amazing partners in this work – please consider supporting them this Christmas if you can (you can also donate towards our efforts directly here). Thank you Ox In A Box for our Food Hero award – here we are with Raymond Blanc back at the ceremony back in February: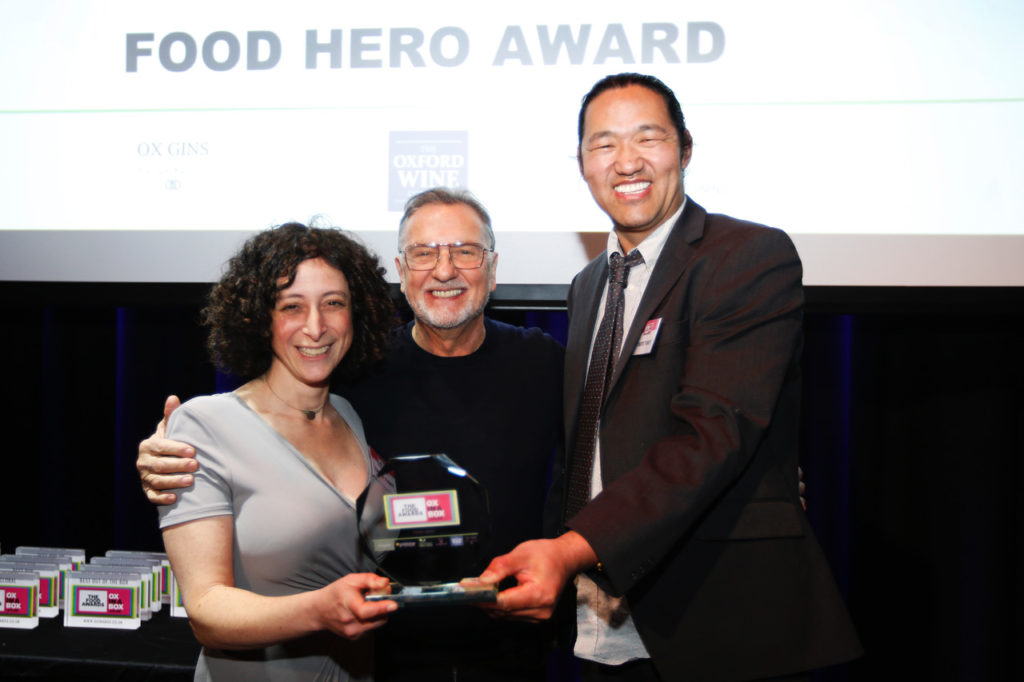 In March our cookbook, Taste Tibet: Family Recipes From The Himalayas, was published by Murdoch Books. We celebrated with a party at our restaurant, which was just about the happiest event of our lifetimes. Thank you to everyone who moved mountains to join us on a midweek evening, and apologies to those of you who we couldn't invite (Covid was raging, and our restaurant – as many of you will know – is tiny). The launch felt like the wedding party we never had: when Yeshi first arrived in the UK we had the world's smallest celebration as I was very pregnant with our son and we had to convert his visa all within the space of a few short months, so thank you to Taste Tibet the cookbook for making this happen: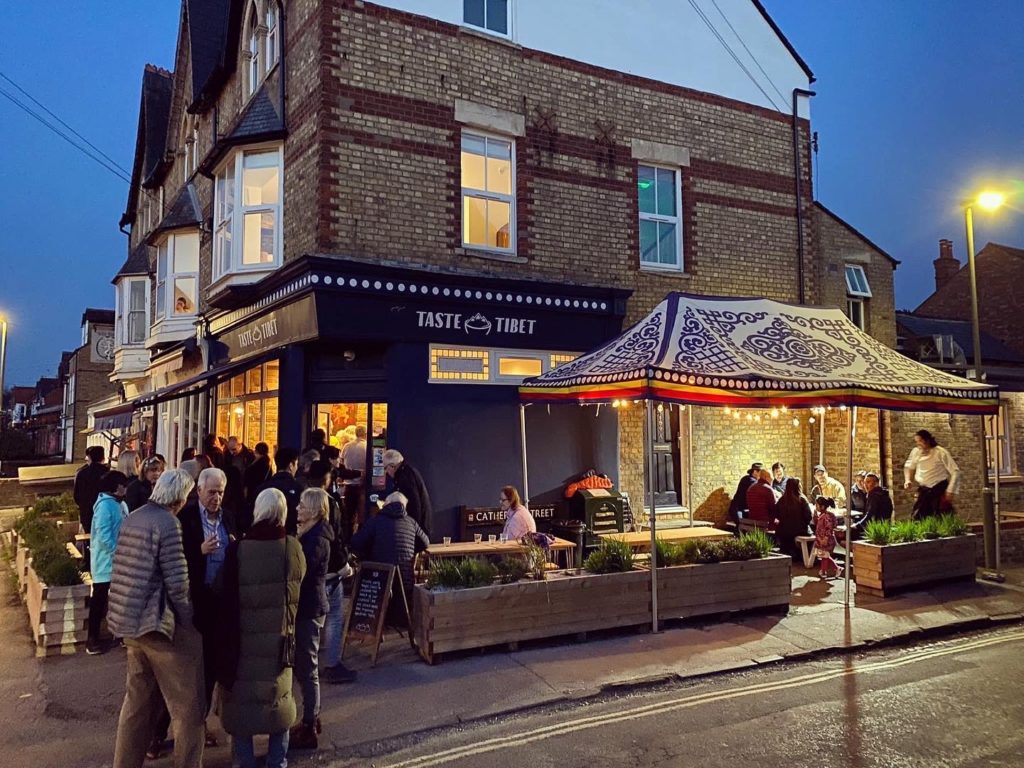 The publication of Taste Tibet has been momentous and also very moving for us. We appeared on a host of our own favourite podcasts (special shouts to Hospitality Mavericks, Cooking the Books and the Olive podcast) as well as Times Radio and Monocle 24. A talk at Chorleywood Bookshop in April was attended by one of my old science teachers. We hadn't realised how often we would hear from so many people we knew/had never met as a result of the book's release, but an unexpected upshot of the publication of Taste Tibet has been just how many people have reached out to share their stories/thoughts/cooked dishes over the months since. It is a dream come true to watch people all over the world recreating Yeshi's recipes in their own homes. How life-affirming and wonderful – thank you.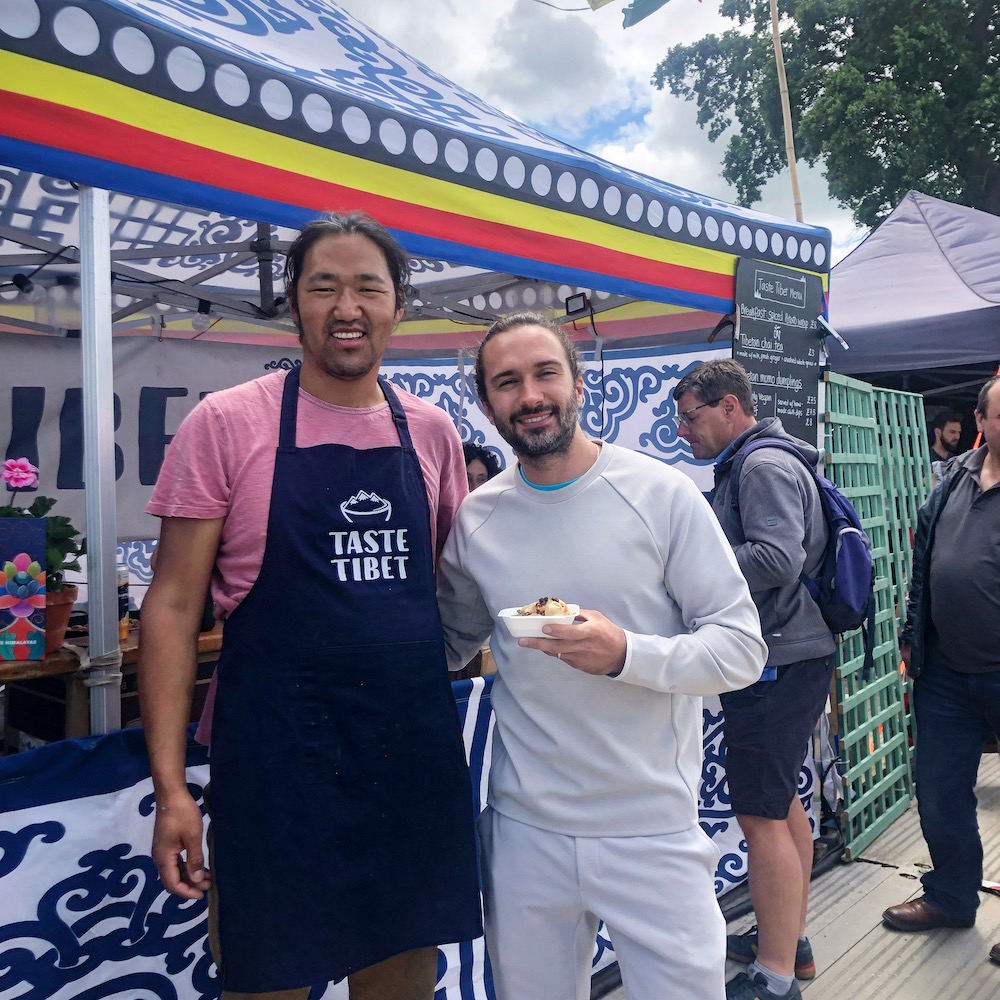 In May festivals returned in earnest for the first time since Covid, and we took our book and food stall on the road to the Hay Literary Festival, where we fed lots of inspiring people including Joe Wicks (pictured), our lockdown PE teacher, and Oxford's own literary legend Kiran Milwood-Hargrave. The kids got to see their all-time favourite author, Cressida Cowell, and TT pulled off an 11-day event for the first time in our history.
In June we hit Glastonbury: this was in fact easy after Hay. Mostly we enjoyed hanging out with our friends at Tibetan Kitchen, who were pitched up not far from our own stall. Sonam and Jane have been serving up Tibetan food on the festival circuit for way longer than Taste Tibet and they are Glastonbury fixtures. Thank you to the Tibetan Kitchen team for helping us navigate this nomadic life in the early days, and thank you to our fantastic festival team for all their hard work and excellent banter at the stall this year.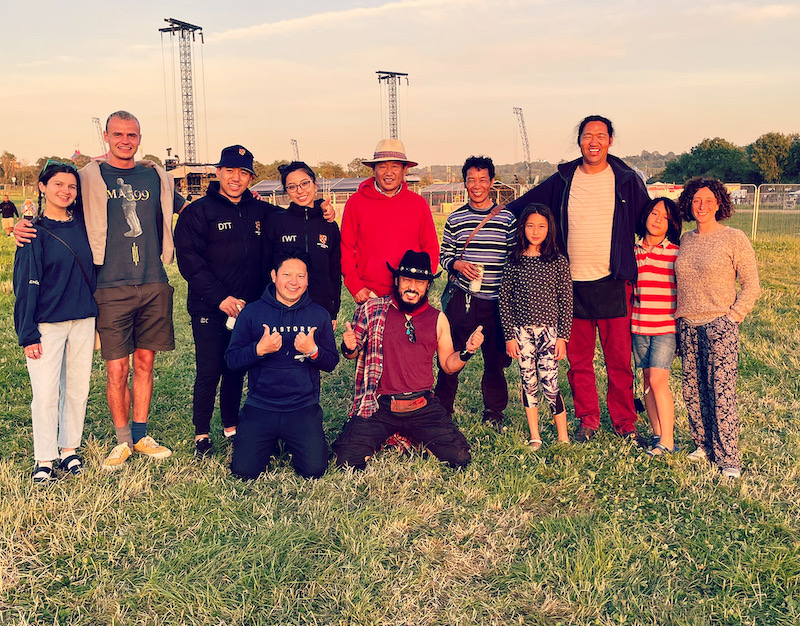 The end of the festival season brought some respite. We took our Heavenly Vegan Momos to the Chef's Theatre Stage at Foodie's Festival in Oxford's South Park, and then jumped in the car for Wales, where we ate pizza and checked out for a week with friends.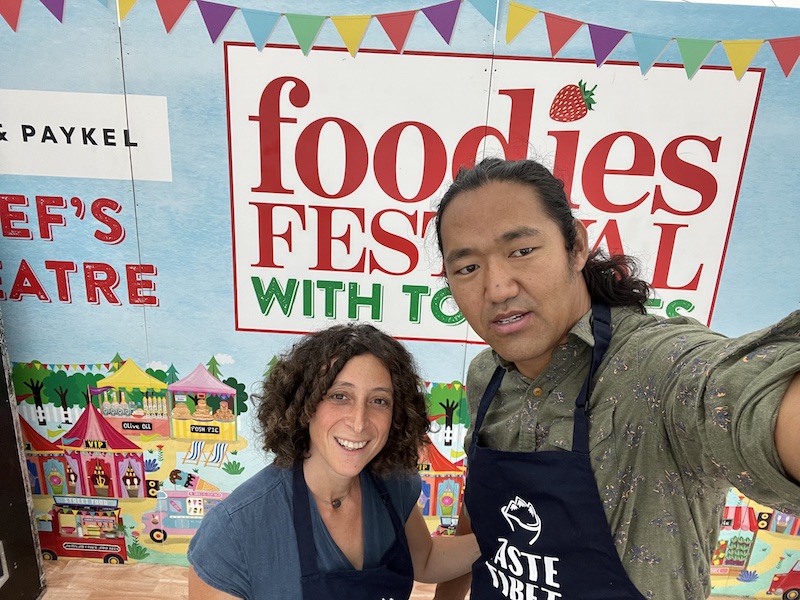 Autumn is relative downtime at Taste Tibet, but while the festival tent is packed away it has been wonderful to take the time to enjoy all the good news for our restaurant and cookbook that has rolled in over these last couple of months. In October we learned that the takeaway had been crowned by the Observer Food Awards as one of the Best Value Eats in the South. This was – for us – the best category we could have been shortlisted in, as we are passionate about providing top quality food at a price that anyone can afford. Thank you to everyone who nominated us!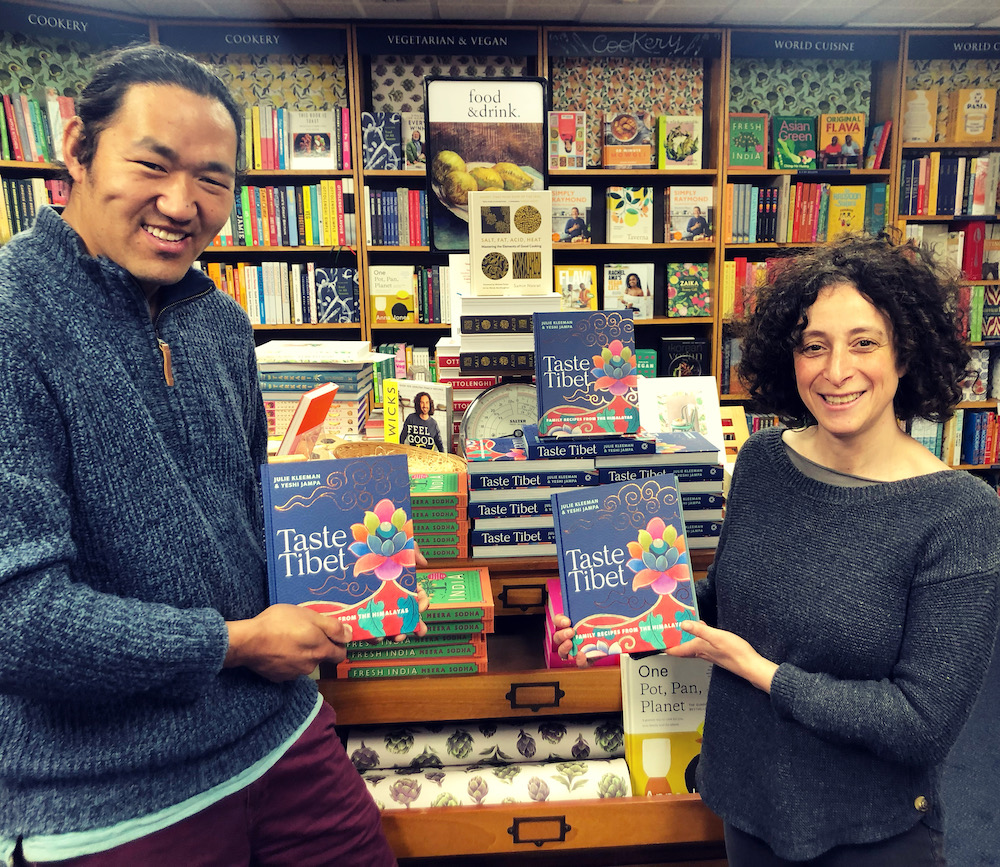 In November, our cookbook got its place in the sun, winning a Gourmand World Cookbook Award as the best Asian cookbook published outside of Asia. Then, just last week, we learned that Taste Tibet: Family Recipes From The Himalayas has been long-listed for the prestigious André Simon Awards. This honour is completely beyond our wildest hopes and dreams for the book – a really exciting end to the year.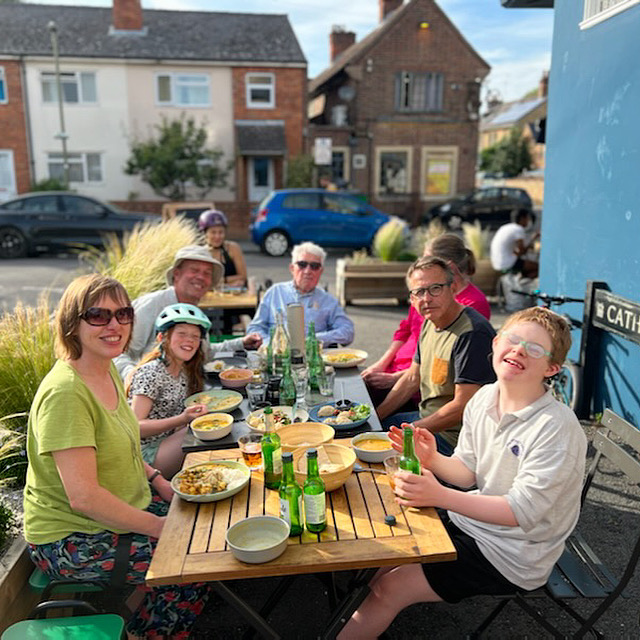 We're closing our 2022 Year In Review with this snapshot of a local family who have celebrated granddad's 90th and now 91st at Taste Tibet – readers of last year's review may remember them. This means everything to us! Though we enjoy dropping names and courting the cameras we are, at heart, a local neighbourhood restaurant, and we are happiest when we see people from all walks of life come through our doors, share our tables, and enjoy our food. In tough times, this is where hospitality comes into its own.
(And since there are not enough food pictures in this round-up of the year, here's a reminder of what we do best:)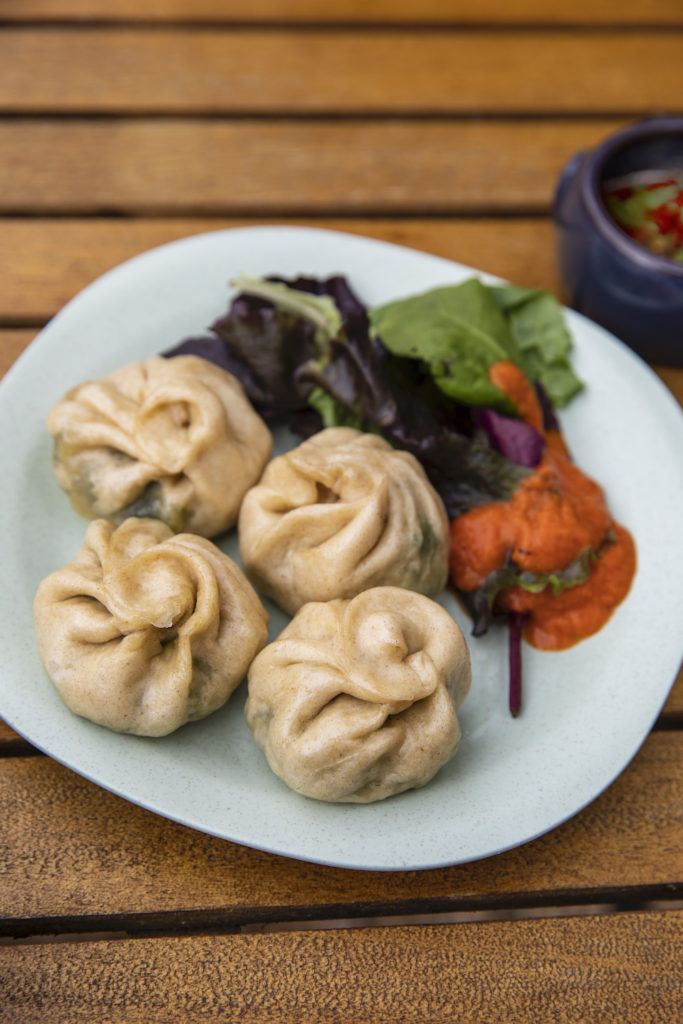 Merry Christmas everyone, and wishing you all a healthy and happy 2023. Thank you for supporting us, championing us and eating with us. Here's to another crazy, fun-filled year.
Taste Tibet closes after dinner on Saturday 17th December and reopens for lunch on Friday 6th January – mark your diaries!
All our best wishes,
Julie and Yeshi
Opening hours this week:
Weds: 5-9.30pm
Thurs – Sat: 12-3pm 🥢 5-9.30pm
☏ 01865 499318
Are you loving the Taste Tibet cookbook? Please leave us a review if so! ⭐️⭐️⭐️⭐️⭐️