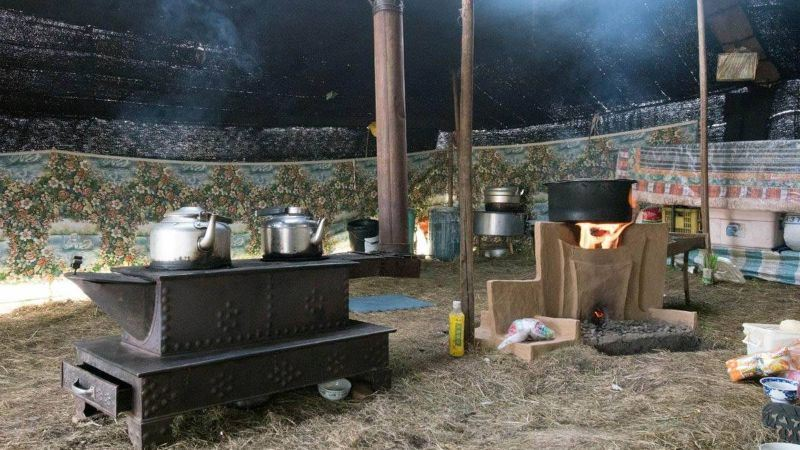 Do you love your stove? Maybe you do. But do you honour it, respect it, feed it?
In Tibet, the family stove is the residence of the kitchen god. Look after it and you are protecting your own familial fortunes.
The traditional Tibetan stove is made from mud and stone, and since most of Tibet is too high for trees, these stoves are usually fuelled by dried yak dung. In Yeshi's home, at lower altitude, the family use slow-burning oak logs. These are kept alight day and night, and provide the house with warmth, and a steady supply of yak butter tea.
You don't want to offend your kitchen god. For this reason, there are strict observances when it comes to cooking on the traditional Tibetan stove. People say that it's unlucky to roast meat directly over the flame, or to burn bones or skin here.
You must also never step over your stove (or another person, while we're at it: in Tibet even pointing your feet towards other people, such as in a legs outstretched seated position, is considered rude).
As for feeding the stove, one way of expressing thanks to the kitchen god is to throw some tsampa into the fire. This is also a way of requesting protection, or apologising for letting a stove get dirty: the kitchen god is fussy about cleanliness.
These days metal stoves are becoming more popular in Tibet. They are a Chinese introduction that is perceived as a desirable, modern alternative. The photo above shows a metal stove next to a stove fashioned according to more traditional methods.
Metal stoves do not maintain the heat provided by the stone/mud stoves. Once the stove ceases to be the principal provider of heat in the home, will the tradition of revering a kitchen god also become obsolete?
Yeshi says that he loves all his stoves. In fact, they are so important to him that he has had two custom-made so far. Check out the one at our stall next time you visit – it has been built to accommodate those massive pots that are such a distinctive feature of our field kitchen.
#tastetibet #tibet #tibetanfood #stove #yakdung #mud #brick