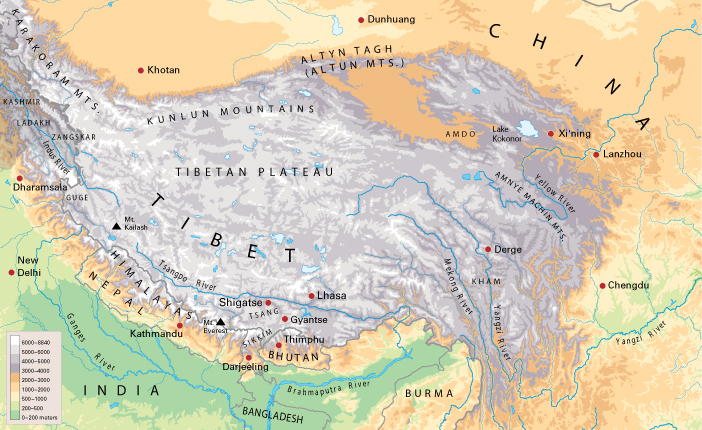 The Himalayan region is shared between China (including Tibet), Bhutan, Pakistan, Nepal and India.
The mountains were there long before people inhabited these parts, and before borders and nations came into existence. A thousand years ago the borders were different to what they are today, and a thousand years from now they will no doubt have changed again.
Tibetan people say that the momo (and it's a Tibetan word), originated in Tibet (and Wikipedia appears to confirm this), but Nepali and Bhutanese people also lay strong claims to this much-loved dumpling of the region. There are also disputes over the origins of many of the condiments (especially chilli dips) that are a distinctive feature of the food of these parts.
It's a guessing game. When the culinary landscape is understood in terms of history and the frequent shifting of border posts, it is easy to understand why the cuisines of the Himalayan countries are so similar. Throughout history, recipes have crossed and recrossed borders many times over, and they continue to do so today.
And yet there are also marked differences. Often this comes down to the availability of ingredients. In many parts of Tibet, for example, especially those that stand at high altitude, very little actually grows. The diet here is rich in yak meat and dairy products, foodstuffs that Tibetan people say suit the protein needs of those who eke out their existence in the harshest conditions of the region.
In other parts of the Himalayas, where vegetables can be grown once in a year, but the season is short, vegetables are put aside for the long winter months through fermenting and preserving, and pickled vegetables become an integral part of the cuisine.
At lower elevation, like Yeshi's hometown area in Tibet, there is often more than one harvest per year, and the cuisine is much more diverse.
Tibetan food varies widely from one part of Tibet to another, and it is hard to speak of it as a single entity. This is true for the food of the Himalayas in general.
The Tibetan cuisine is characterised by the need for practicality given the prevailing conditions. Daily meals are planned around what is available. This goes some way to explaining why we don't often offer you many recipes on our blog: we are working on them, but recipes per se do not really exist in Tibet.
Perhaps this is why Tibetan people are such great chefs – don't they say that the mark of a really good one is someone who can rustle up a good meal from whatever there is to hand?
#tastetibet #tibet #himalayan #tibetanfood