We've written before about the previous occupants of 109 Magdalen Road. The current Taste Tibet premises was originally a bakery, but it has also been a fruit and veg shop, a general stores, a florist, and more.
This week we were talking with friend who grew up on nearby Silver Road in the 1950s. She remembers a shop on every street corner, and if you look closely at the the houses where local roads meet you can still make out brickwork faded by advertising hoardings like the ones shown in the picture above at 108 Magdalen Road in 1957 (where ,the Catherine Street lion now resides: ,www.pictureoxon.co.uk; POX0600853). See below for another shot of this building from even earlier (POX0600193):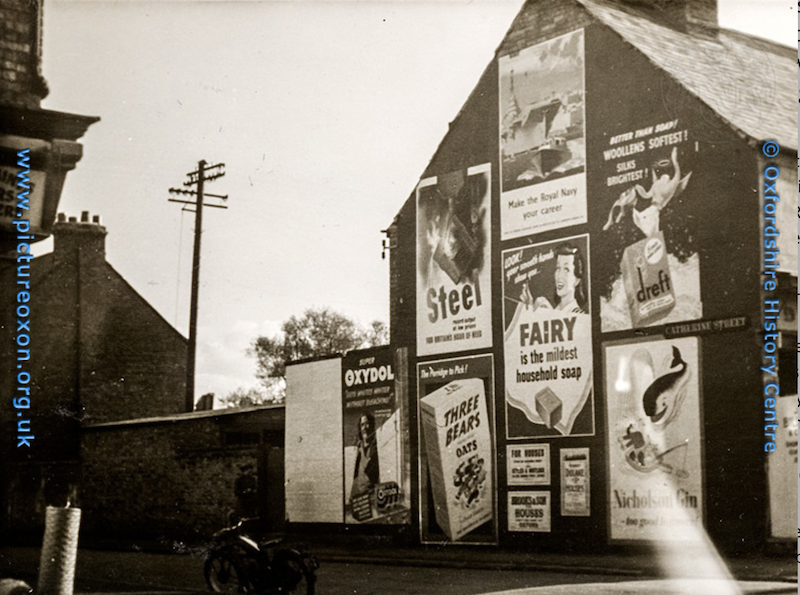 In the days before supermarkets and cars, everybody shopped locally, played outdoors, and knew each other by name. Some of these ways of life are now lost, but one of the things that we love most about living and working in East Oxford is that the tradition of first name terms has largely held.
For any business, this is crucial. We need to know who our customers are so that we can know how to best serve you. We need to know what you are looking for from a local business, what's important to you, what you do for fun, and how we can make your life even better.
If we don't yet know you and you'd like to introduce yourself, please pop by and see us in Magdalen Road any time. You can also ,drop us an email. We'd especially love to hear from you if you have something to say about your experience with us so far, or if you'd like to share ideas.
A quick one about "Freedom Day": when you come in this Wednesday you won't notice any changes. Our staff will continue to wear masks to help keep you as safe as possible, and a track and trace station will still be available for those who want to check in. We will continue to take pre-orders for evening takeaways so that you can be in and out as quickly as possible (call us on the day between 4.30 and 5.30pm ideally please – number below), and as long as the weather remains warm we look forward to serving as many of you as possible outdoors in the open air.
Please note that we will be CLOSED the week of 26th July, reopening 4th August, so if you want your momo make sure to visit us this weekend. And if you need to feed your addiction while we are away, come by for individual or family-sized boxes of our frozen ready meals any time during opening hours. Here's a run-down of our when we are open this week:
Wednesday: 5.30-9.30pm (dinner only)
Thursday: 12-3pm (lunch) / 5.30-9.30pm (dinner)
Friday: 12-3pm (lunch) / 5.30-9.30pm (dinner)
Saturday: 12-3pm (lunch) / 5.30-9.30pm (dinner)
This week's menu is live ,on the website now.
See you soon!
Julie and Yeshi
Opening hours this week:
Weds: 5.30-9.30pm
Thurs – Sat: 12-3pm 5.30-9.30pm
☏ 01865 499318